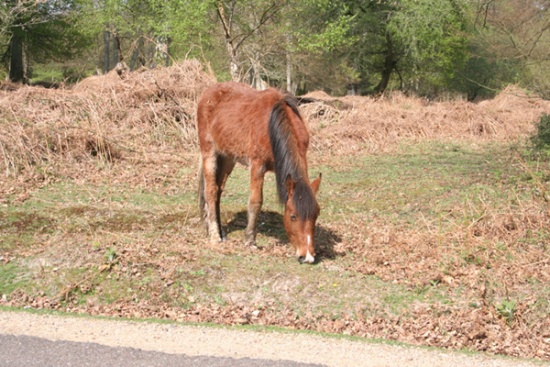 Overview
Occupying much of the southwest of Hampshire, the New Forest covers a large area of heathland with bogs and dry heath, woodland of mainly beech and oak and extensive conifer plantations.
The area has long been popular with tourists but it still retains much interest for the naturalist and the New Forest is home to many specialities, especially insects. Although the area has been modified to some extent by man and his livestock over the centuries this forest remains one of the best preserved ancient lowland woodlands in Britain, if not Western Europe. That such a large area (more than 256km2) has remained free of development or cultivation for so long is due to its designation as a royal hunting preserve in the 11th century.
The entire area is excellent for birds with good populations of heath and woodland species and in raptors in particular. Despite the busy scenes in some of the roadside car parks, in many parts of the forest it only takes a short walk to escape the crowds.
Birds
Notable Species
Eurasian Sparrowhawk, Common Buzzard and Common Kestrel are common and widespread and the New Forest remains one of the British strongholds for Northern Hobby. It was also once the best area for European Honey Buzzard in Britain but in recent decades the small population has declined further and although this rare breeder can still be seen it cannot be guaranteed. Northern Goshawk has begun to appear more regularly and other raptors are occasionally recorded including Black Kite and Red Kite, Marsh Harrier and Montagu's Harrier and Osprey. A vagrant raptor, the Red-footed Falcon, has been recorded more often here than virtually anywhere else in Britain despite this being away from any major migration routes. Hen Harrier is regular in winter, sometimes joined by Merlin and Peregrine Falcon and other hunters over the winter heathland include Great Grey Shrike and Short-eared Owl.
Dartford Warbler is found in good numbers on the heathland although they are much reduced after a severe winter and other birds found here include Stonechat and European Nightjar with Tree Pipit and Wood Lark where the woodland edge meets the heath. Eurasian Skylark and Meadow Pipit are common in the grassier areas. In the bogs small numbers of Northern Lapwing, Eurasian Curlew and Common Redshank nest. Grey Wagtail and Common Kingfisher can be seen along the streams and Mandarin Duck nests beside woodland ponds.
The beech and oak woods have a wide range of typical deciduous woodland birds including Woodcock, Tawny Owl and woodpeckers as well as Wood Warbler, Common Redstart, Eurasian Nuthatch and Common Treecreeper. As well as the commoner finches there are small numbers of Hawfinch in some parts of the forest, Lesser Redpoll breeds where birch predominates and Siskin and Common Crossbill occur in conifers.
In winter Brambling join the Chaffinch flocks in the beechwoods and large numbers of Redwing and Fieldfare are attracted to the many Holly and other berry-bearing trees and bushes.
Rarities
Although not noted as a migration watchpoint small numbers of migrants do pass through the forest and often include scarcer species such as Ring Ouzel. Vagrants recorded in the area have included Purple Heron, Eurasian Spoonbill and Common Crane, European Roller, Hoopoe and Horned Lark.
Check-list
Birds you can see here include:
Grey Heron, Canada Goose, Common Shelduck, Mandarin Duck, Eurasian Wigeon, Common Teal, Mallard, European Honey Buzzard, Hen Harrier, Northern Goshawk, Eurasian Sparrowhawk, Common Buzzard, Common Kestrel, Merlin, Northern Hobby, Peregrine Falcon, Northern Lapwing, Eurasian Woodcock, Common Snipe, Eurasian Curlew, Common Redshank, Stock Dove, Common Woodpigeon, Eurasian Collared Dove, European Turtle Dove, Barn Owl, Little Owl, Tawny Owl, Long-eared Owl, Short-eared Owl, European Nightjar, Common Swift, Common Kingfisher, Green Woodpecker, Great Spotted Woodpecker, Lesser Spotted Woodpecker, Wood Lark, Eurasian Skylark, Barn Swallow, Northern House Martin, Tree Pipit, Meadow Pipit, Grey Wagtail, Pied Wagtail, Common Nightingale, Common Redstart, European Stonechat, Whinchat, Northern Wheatear, Ring Ouzel, Eurasian Blackbird, Fieldfare, Song Thrush, Redwing, Mistle Thrush, Dartford Warbler, Common Whitethroat, Garden Warbler, Blackcap, Wood Warbler, Common Chiffchaff, Willow Warbler, Goldcrest, Common Firecrest, Long-tailed Tit, Marsh Tit, Coal Tit, Blue Tit, Great Tit, Great Grey Shrike, Common Jay, Common Magpie, Eurasian Jackdaw, Rook, Carrion Crow, Common Starling, House Sparrow, Chaffinch, Brambling, European Greenfinch, European Goldfinch, Eurasian Siskin, Eurasian Linnet, Lesser Redpoll, Common Crossbill, Common Bullfinch, Hawfinch, Yellowhammer, Reed Bunting
Other Wildlife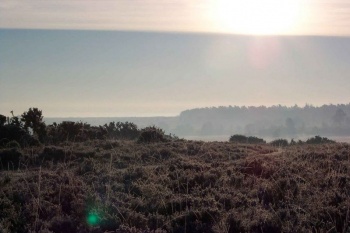 As well as the semi-wild New Forest Ponies which attract many tourists, deer are common and frequently seen. Red Deer Cervus elaphus, Fallow Deer Cervus dama and Roe Deer Capreolus capreolus occur as well as the introduced Sika Deer Cervus nippon. Red Fox Vulpes vulpes, Badger Meles meles, Stoat Mustela erminea and Weasel Mustela nivalis are all common and widely distributed throughout the forest.
The Adder Vipera berus is very common and other reptiles include Britain's two rarest species, Smooth Snake Coronella austriaca and Sand Lizard Lacerta agilis.
The New Forest is home to a vast number of invertebrate species, particularly insects, and the area is of great importance to beetles that depend on decaying timber. This specialised habitat has disappeared from most other woodlands that are more stringently managed. One of the most famous of the New Forest insect specialities is a Cicada, Cicadetta montana, the only British species of a group found otherwise around the Mediterranean and the tropics. The butterfly fauna is rich and varied and includes Purple Emperor Apatura iris, Silver-studded Blue Plebejus argus and Grayling Hipparchia semele. Fritillaries such as Pearl-bordered Clossonia euphrosyne and Small Pearl-bordered Fritillary Clossonia selene are common.
Floristically the New Forest is one of Britain's most interesting areas and the variety of soils and habitats gives rise to a rich variety of flowering plants, ferns and mosses, lichens and fungi. The wet bogs are among the richest with all three British sundew species, Bog Myrtle Myrica gale, Bog Orchid Malaxis paludosa and Hampshire Purslane Ludwigia palustris.
Woodlands have large Beech Fagus sylvaticus and Oak Quercus robur trees, many of them ancient pollards, with an understorey of mainly Holly Ilex aquifolia. More palatable species such as Hazel Corylus avellana that form the understorey in other southern English woods are prevented from becoming established through browsing animals. However, in some areas the introduced Rhododendron Rhododendron ponticum has become established much to the detriment of native wildlife.
One of the New Forest's special plants is the Wild Gladiolus Gladiolus illyricus which grows amongst bracken and heather and is now very rare in Britain.
Site Information
Areas of Interest
Beaulieu Road Station
Map Although the New Forest covers such a large area and many species can be seen at widespread localities there are specific areas worth exploring for more serious birders. The best known of these is Beaulieu Road Station on the B3056 road between Lyndhurst and Beaulieu.
Habitats in this area range from bog and dry heath to beech and oak woodland with some stands of pine. Most of the New Forest's special birds can be seen here and raptors are well-represented. The commoner species are present and include Northern Hobby, European Honey Buzzard is regularly seen and Goshawk is possible.
Dartford Warbler, Tree Pipit, Wood Lark and European Nightjar can all be found on the heath and woodland edge and Woodcock, Wood Warbler, Common Redstart and Hawfinch in the woodlands with Common Crossbill regular in pines in this area.
Common Shelduck and Common Teal, Common Snipe and Eurasian Curlew breed in the bogs here. The car park on the B3056 at Shatterford gives access to footpaths towards Denny Wood and Woodfidley, all good birding areas.
Acres Down
Map Acres Down is a ridge lying to the northwest of Lyndhurst, overlooking a large wooded area and long famous as a site for European Honey Buzzard and other raptors. European Honey Buzzard is now less regular but this site is still good for Eurasian Sparrowhawk, Northern Hobby and Common Buzzard and Northern Goshawk has been seen. Most of the other woodland and heath birds of the forest can be seen here including European Nightjar on the heath below the ridge. Wood Lark is frequent throughout the open areas of heathland.
Acres Down can be reached from a minor road between Emery Down and Stoney Cross, take the road towards the village tearoom and follow the central gravel track to Robinbush car park. A footpaths leads from here up to the ridge.
Ashley Walk and Hampton Ridge
Map Ashley Walk and Hampton Ridge is a mainly heathland and bog area, bordered by woodlands, in the northwest corner of the forest. Heathland birds include Dartford Warbler, the woodland edges have Wood Lark and Tree Pipit and woods have Common Redstart and Hawfinch. Northern Hobby is present in summer and Hen Harrier in winter often joined by Merlin and Great Grey Shrike and sometimes by Peregrine Falcon.
There are several car parks on the B3078 between Godshill and Bramshaw Telegraph that give access to this area via footpaths. The track from Ashley Walk car park is one of the best and leads to Pitts Wood and on to Hampton Ridge, an excellent walk for Hawfinch. Another good walk is from Telegraph Hill car park to Ashley Cross and Hampton Ridge.
Bolderwood
Map Some of the New Forest's best woodland can be seen at the Bolderwood Grounds and there is also a great variety of exotic trees here forming part of an arboretum. Best known as the site of the first recorded British breeding of Common Firecrest, the area has a wide range of breeding species including Woodcock, Common Redstart, Wood Warbler, Lesser Spotted Woodpecker, Tawny Owl, Goshawk, Cuckoo, Siskin, Common Crossbill and Hawfinch. Common Firecrest usually fairly easy to hear although tricky to observe.
There are several well-marked trails through Bolderwood which can be reached by a minor road west from the New Forest Inn at Emery Down.
Fritham
Map The Fritham area also holds some fine New Forest woodlands, in particular Eyeworth Wood, but also heathland and Eyeworth Pond where Mandarin Duck can be seen. Grey Wagtail breeds along streams but woodland species including Lesser Spotted Woodpecker and Hawfinch are the main interest. In addition, Dartford Warbler, European Nightjar, Wood Lark and Tree Pipit nest on the heathland and along its fringes.
Fritham lies in the north west of the forest and the best woods are situated to the west of the village. It can be reached from a minor road between the B3078 at Longcross Plain and Stoney Cross, follow the sign for Fritham and Eyeworth to the village.
To the northwest is Eyeworth Pond car-park, to the southwest on a gravel track is Fritham car park and there are numerous footpaths across the area.
Access and Facilities
There are several major roads crossing the forest, notably the B3078 Cadnam to Fordingbridge road, the A31 Cadnam to Ringwood road and the A337 Cadnam to Lymington road as well as the A35 road between Southampton and Christchurch.
Due to the immense popularity of the New Forest as a holiday area hotel, guest house and bed and breakfast accommodation is plentiful in local towns and villages and there are numerous campsites throughout the forest.
External Links
GSearch checked for 2020 platform.


Content originally posted by Steve
Reviews
teamsaint's review
Always something to see, but the birds might take some searching to find. Birds I have observed here include Goshawk, Hobby, Hen Harrier, Merlin, Common Firecrest, Crossbill, Hawfinch, Lesser Spotted Woodpecker, Woodlark, Dartford Warbler, Tree Pipit, Wood Warbler, Redstart, Siskin, Redpoll, Nightjar, Woodcock & Raven.
Pros
A very good selection of rarer birds.
Cons
If you don't know where to look you won't see much.
Gerald & Mary's review
Golden Oriole & Nuthatch seen close several woodpeckers Green & Great Spotted. Just returned Home after 4 great days birding Blashford Lakes Wood adjacent Rufus Stone & Bramshaw Common Over 25 different species seen many for the 1st time ie Goldcrest & Pair of Wood Lark on common Tree Creepers & Nuthatch in numbers Latest visit 23rd -26th Feb 2007
Pros
Still quiet areas to observe birds + deer
Cons
Not for those with little patience Birds thinly scattered