Alternative Names: Coral-billed Nuthatch; Coralbill; Madagascar Nuthatch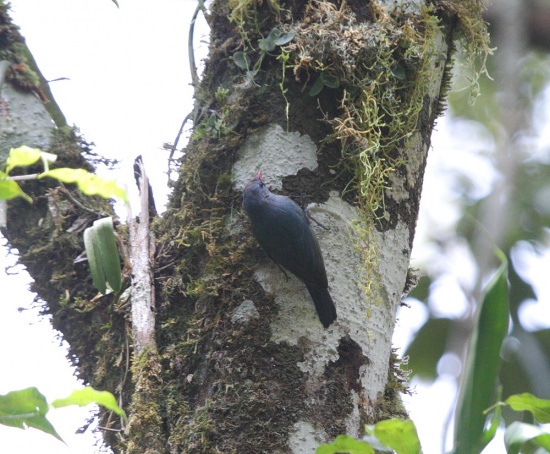 Hypositta corallirostris
Identification
13 - 14cm. A small, highly distinctive vanga, the claw of the first toe is elongated (20mm):
Male
Mid-blue plumage
Black lower forehead, lores and chin
Variable pale buff on vent
Dark brown eye
Bright orange-red bill
Dark grey legs
Female
Brownish-green head, lacking black eyestripe
Buffy forecrown
Blue hindcronw, mantle, scapulars, upperwing-coverts and tail
Buffish rump, chin, breast and belly
Bill duller red
Juveniles are similar to females.
Distribution
Endemic to north and east Madagascar.
Locally common in its restricted range.
Taxonomy
This is a monotypic species.
The described form perdita, sometimes accepted as full species (Bluntschli's Vanga), is based on two juveniles found in a museum drawer. It might be just aberrant examples of this species.
Habitat
Evergreen humid forest from sea-level up to 1800m.
Behaviour
Feeds on small invertebrates and small vertebrates.
Climbs tree trunks like a nuthatch, searching for food on bark.
Usually seen in groups of two or three birds, almost always in mixed-species flocks with other vangas, Madagascar Cuckooshrike, Madagascar Bulbul, Common Newtonia or Madagascar Paradise-Flycatcher.
Breeding season probably from August to September. One described nest was a cup made from live and dead mosses, attached to a tree trunk. No other information about breeding. A sedentary species.
References
Clements, JF. 2009. The Clements Checklist of Birds of the World. 6th ed., with updates to December 2009. Ithaca: Cornell Univ. Press. ISBN 978-0801445019.
Del Hoyo, J, A Elliott, and D Christie, eds. 2009. Handbook of the Birds of the World. Volume 14: Bush-shrikes to Old World Sparrows. Barcelona: Lynx Edicions. ISBN 978-8496553507
Recommended Citation
External Links