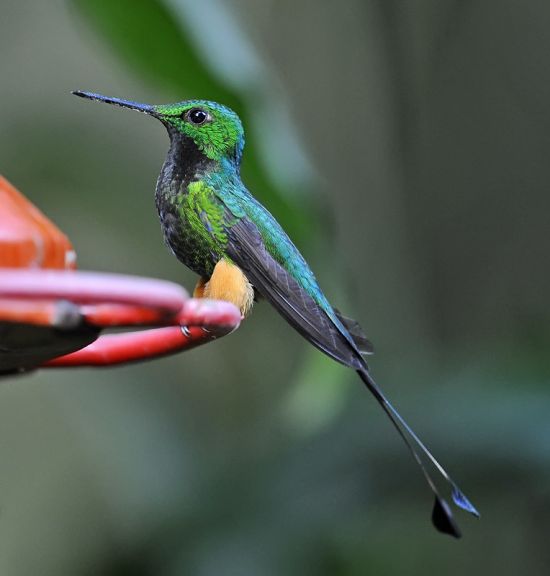 Ocreatus addae
Identification
Male
Iridescent green above with golden flashes
Green underparts in subspecies annae, white with green flecks in subspecies addae
White post-ocular spot
Long tail streamers ending in blackish-green spoon shaped rackets

Tail streamers cross each other near the body

Short, straight bill
Dark iris
Cinnamon puffed up feathers surrounding the legs
Female
Similar to male but with
White underparts, flecked with green
Tail shorter than male, lacks rackets, but deep fork with white tips to outer rectrices
White post-ocular spot and a narrow white stripe in the malar region
Puffs around legs are smaller and paler than in male
Similar species
Peruvian Racket-tail does not have the tail streamers cross each other.
Distribution
South America: found in Peru and Bolivia.
Taxonomy
One of three species formerly combined as Booted Racket-tail.
Subspecies
Two subspecies are recognized[1].
Andes of central and southern Peru
Yungas of Bolivia (La Paz to Santa Cruz and Chuquisaca)
Habitat
Subtropical to temperate forest, more likely at edges, ravines, roads, etc than at deep forest interior. May use second growth to rainforest, cloud forest, elfin forest, and coffee plantations. Most common between 1000 to 2300 m asl but may be found lower.
Behaviour
Males seems to be territorial, especially contra other males of same species.
Diet
Includes nectar and insects. Most frequently feeding in mid story to canopy, but lower at forest edge and gardens. Readily visits garden feeders.
Vocalisation
Sounds include both calls and mechanical sounds (wing hum).
References
Clements, J. F., T. S. Schulenberg, M. J. Iliff, T. A. Fredericks, J. A. Gerbracht, D. Lepage, S. M. Billerman, B. L. Sullivan, and C. L. Wood. 2022. The eBird/Clements checklist of Birds of the World: v2022. Downloaded from https://www.birds.cornell.edu/clementschecklist/download/
Gill, F, D Donsker, and P Rasmussen (Eds). 2022. IOC World Bird List (v 12.2) DRAFT. Doi 10.14344/IOC.ML.12.2. http://www.worldbirdnames.org/
Birdforum Member observations
Restall et al. 2006. Birds of Northern South America. Yale University Press. ISBN 9780300124156
Erize et al. 2006 Birds of South America, non-passerines. Princeton Illustrated Checklists, Princeton, New Jersey, USA. ISBN 0-691-12688-7
García, N. C., K.L. Schuchmann, and P. F. D. Boesman (2022). Rufous-booted Racket-tail (Ocreatus addae), version 1.0. In Birds of the World (B. K. Keeney, Editor). Cornell Lab of Ornithology, Ithaca, NY, USA. https://doi.org/10.2173/bow.rubrat1.01
Recommended Citation
External Links
GSearch checked for 2020 platform.