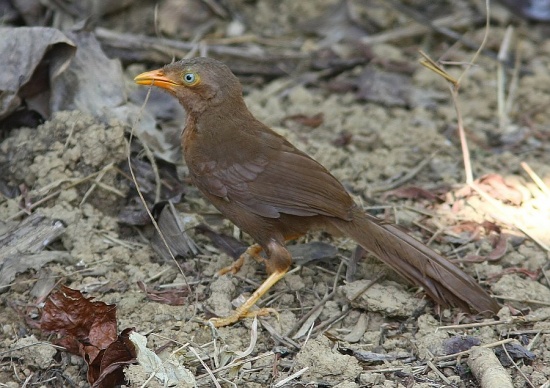 Alternative names: Ceylon Babbler; Ceylon Rufous Babbler
Argya rufescens
Turdoides rufescens
Identification
With 25 cm a medium-sized Turdoides-babbler:
Entirely rufous-chestnut
Bright orange bill and legs
Light grey wash on unstreaked crown and nape
Pale eye and lores
May be confused with sympatric Ashy-headed Laughingthrush, but note bill and leg colour.
Distribution
Endemic to southwest Sri Lanka. Restricted-range species, common in suitable habitat. Resident.
Taxonomy
This is a monotypic species.[1]
In the past, it was considered to be a race of Jungle Babbler and may form a superspecies with it.

Habitat
Its habitat is rainforest and deep jungle. Usually found in primary forest, only occasionally in secondary forest. Recorded up to 2100m.
Behaviour
Its diet includes insects, but also jungle berries. Forages in lower storeys of trees and in canopy. Noisy and greagrious, usually in groups of 6 to 12 birds, sometimes much more. Also in mixed feeding flocks. Breeding season from March to May. It builds its nest in a tree, concealed in dense masses of foliage. 2-3 deep greenish blue eggs are laid.
References
Clements, J. F., T. S. Schulenberg, M. J. Iliff, S. M. Billerman, T. A. Fredericks, J. A. Gerbracht, D. Lepage, B. L. Sullivan, and C. L. Wood. 2021. The eBird/Clements checklist of Birds of the World: v2021. Downloaded from https://www.birds.cornell.edu/clementschecklist/download/
Del Hoyo, J, A Elliott, and D Christie, eds. 2007. Handbook of the Birds of the World. Volume 12: Picathartes to Tits and Chickadees. Barcelona: Lynx Edicions. ISBN 978-8496553422
Rasmussen, PC and JC Anderton. 2005. Birds of South Asia: The Ripley Guide. Barcelona: Lynx Edicions. ISBN 978-8487334672
Recommended Citation
External Links
GSearch checked for 2020 platform.