Alternative names: Horsfield's Cuckoo; Northern Muted Cuckoo
Cuculus optatus
Cuculus horsfieldi
Identification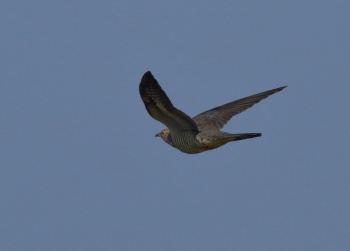 30-33cm (11¾-13 in). Very similar to Himalayan Cuckoo.
Dark ashy-grey upperparts
Blackish brown tail, white spotted and tipped
Ashy-grey chin to breast
White lower breast and abdomen with black bars
White to creamy apricot vent with variable barring
Yellow eye-ring
Females are similar but have a rufous tinge to breast. Also has a rufous morph (in both sexes) with rufous rump and uppertail with dark barring.
Juveniles are slate-grey on upperparts with white feather edges, they have a black throat with white bars and have black and white barred underparts.
Similar species
Virtually identical to Himalayan Cuckoo.
Common Cuckoo is very similar but Oriental Cuckoo has broader and more widely spaced black bars below and the bend of wing below is unbarred (brown and white barred in Common Cuckoo). The rufous morph has dark barred rump and undertail-coverts (plain rufous in Common Cuckoo). The call is also different.
Sunda Cuckoo is very similar but smaller.
Distribution
Breeds from eastern European Russia east through Siberia to Kamchatka, south to Kazakhstan, the Altai, Mongolia and northern China. Also in Korea and Japan.
Winters from southeast Asia to Australia.
Vagrant to New Zealand, western Alaska and western Europe.
Common in its breeding range.
Taxonomy
This is a monotypic species.
It was formerly considered conspecific with Himalayan Cuckoo and Sunda Cuckoo under the name Oriental Cuckoo Cuculus saturatus.
Some authorities use Cuculus horsfieldi as scientific name.
Habitat
Found in forests, mainly coniferous and mixed-coniferous. In Sichuan up to 4500m, in the Altai region lower than Common Cuckoo, usually below 1000m.
Behaviour
Diet
Feeds on insects, mainly caterpillars.
Breeding
A Brood parasitic. Known host species are Common Chiffchaff, Eastern Crowned Warbler, Olive-backed Pipit and Japanese Bush Warbler. The nestling evicts the host's eggs and young.
Movements
A migratory species.
Vocalisation
Four low hoop whistles. Calls harshly gaak-gaak-gak-ak-ak-ak.
References
Clements, J. F., T. S. Schulenberg, M. J. Iliff, D. Roberson, T. A. Fredericks, B. L. Sullivan, and C. L. Wood. 2016. The eBird/Clements checklist of birds of the world: v2016, with updates to August 2016. Downloaded from http://www.birds.cornell.edu/clementschecklist/download/
Del Hoyo, J, A Elliot, and J Sargatal, eds. 1997. Handbook of the Birds of the World. Volume 4: Sandgrouse to Cuckoos. Barcelona: Lynx Edicions. ISBN 978-8487334221
Recommended Citation
External Links