This article is incomplete.
This article is missing one or more sections. You can help the BirdForum Opus by expanding it.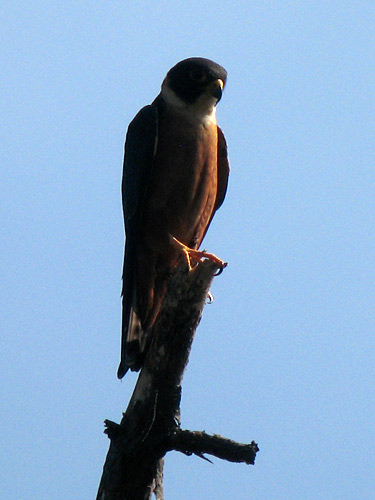 Falco severus
Identification
27 to 30 cm long
Adult
Chestnut underparts
Bluish-grey upperparts
Black hood
Pale throat

Juvenile
Mottled back
Rufous ches with black streaks
Distribution
It can be found in eastern Himalayas and ranges to southern China, Hainan and south through Indochina to Southern Asia and Australasia.
It has been recorded as a vagrant from Malaysia. Also occurs in the Philippines, Sulawesi, Maluku, New Guinea and the Bismarck Archipelago. Rare in Java and Bali, a vagrant to Borneo and status unclear on Sumatra, a rare resident or vagrant. Has also been recorded on Gizo in the Solomon Islands. Resident.
Taxonomy
Monotypic[1]
A second subspecies, papuanus, is not recognised by all authorities[2]
Habitat
Lowland forested areas and woodland.
Behaviour
Breeding
It nests on cliff or building ledges or, more usually, in trees, using an old nest from other birds.
Diet
Its diet consists mainly of insects.
References
Clements, JF. 2008. The Clements Checklist of Birds of the World. 6th ed., with updates to December 2008. Ithaca: Cornell Univ. Press. ISBN 978-0801445019.
Wikipedia
Recommended Citation
External Links