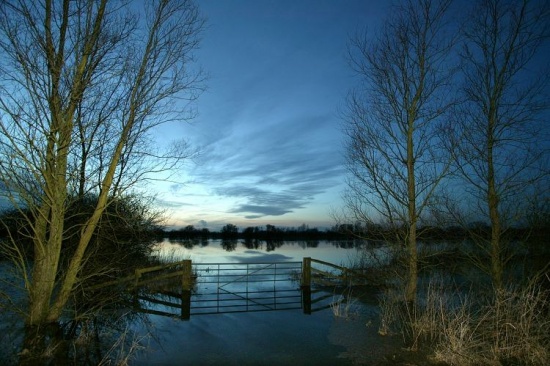 Overview
The wet meadows or "washes" between the new rivers continue to flood in winter and have created a 20km stretch of washland that is now internationally important for wetland birds. The amount of flooding varies from year to year and between areas of the washland with some parts under 1metre of water and others remaining damp grassland as much of the area is during the summer.
The rivers themselves, and the ditch systems between them, are important habitats as are the osier beds. These are cut in rotation so there is always a range of habitats providing nesting and feeding sites.
Birds
Notable Species
Yellow Wagtail are common breeders and nest alongside Northern Lapwing, Common Redshank and Common Snipe. Breeding ducks include such scarce species as Northern Pintail, Garganey, Gadwall and Northern Shoveler as well as Common Shelduck, Mallard, Tufted Duck and Common Pochard.
However, the most important breeders are Black-tailed Godwit, which although numbers have declined recently, have bred here since their recolonisation of Britain in the 1950s, and Ruff which have bred in varying, but always small, numbers since the 1960s. A recent colonist is the Pied Avocet which began nesting in 1996 and by 2002 more than 40 pairs were present.
Spotted Crake are recorded regularly and almost certainly breed, Black Tern has bred and Little Gull has attempted breeding.
The willows attract a range of species to breed including Little Owl, Stock Dove and Turtle Dove, Grey Heron and various passerines.
During winter floods the washes are of great importance for wintering waterfowl with more than 3000 Bewick's Swan and up to 600 Whooper Swan, the largest herd in England. Eurasian Wigeon can reach 40 000 and other ducks present in winter include the nine breeding species as well as small numbers of sawbills and grebes.
Common Kingfisher are winter visitors as are Hen Harrier, Merlin, Peregrine Falcon and Short-eared Owl and large numbers of gulls roost in the area. Passage periods see the appearance of various waders such as Spotted Redshank and Green Sandpiper, Wood Sandpiper and Common Sandpiper. Red-necked Phalarope is regularly recorded.
Check-list
Birds you can see here include:
Little Grebe, Great Crested Grebe, Great Cormorant, Grey Heron, Mute Swan, Bewick's Swan, Whooper Swan, Greater White-fronted Goose, Greylag Goose, Common Shelduck, Eurasian Wigeon, (rare in Su), Gadwall, Common Teal, Mallard, Northern Pintail, Garganey, Northern Shoveler, Common Pochard, Tufted Duck, Greater Scaup, Common Goldeneye, Smew, Red-breasted Merganser, Goosander, Ruddy Duck, Western Marsh Harrier, Hen Harrier, Common Kestrel, Merlin, Peregrine Falcon, Common Quail, Water Rail, Spotted Crake, Common Moorhen, Eurasian Coot, Eurasian Oystercatcher, Eurasian Golden Plover, Grey Plover, Northern Lapwing, Red Knot, Little Stint, Dunlin, Ruff, Jack Snipe, Common Snipe, Black-tailed Godwit, Bar-tailed Godwit, Whimbrel, Eurasian Curlew, Spotted Redshank, Common Redshank, Common Greenshank, Green Sandpiper, Wood Sandpiper, Common Sandpiper, Red-necked Phalarope, Black-headed Gull, Common Gull, Lesser Black-backed Gull, Herring Gull, Great Black-backed Gull, Sandwich Tern, Common Tern, Black Tern, Stock Dove, Common Woodpigeon, Eurasian Collared Dove, European Turtle Dove, Barn Owl, Little Owl, Short-eared Owl, Common Swift, Common Kingfisher, Eurasian Skylark, Sand Martin, Barn Swallow, Northern House Martin, Meadow Pipit, Yellow Wagtail, Pied Wagtail, Common Wren, Dunnock, Eurasian Robin, European Stonechat, Eurasian Blackbird, Fieldfare, Song Thrush, Redwing, Mistle Thrush, Sedge Warbler, Common Reed Warbler, Bearded Tit, Long-tailed Tit, Blue Tit, Great Tit, Common Magpie, Eurasian Jackdaw, Rook, Carrion Crow, Common Starling, House Sparrow, Eurasian Tree Sparrow, Chaffinch, Brambling, European Greenfinch, European Goldfinch, Lesser Redpoll, Twite, Reed Bunting, Corn Bunting
Other Wildlife
The Ouse Washes are also of great importance for wetland plants with several rare and local species present. Mousetail Myosurus minimus, Flowering Rush Butomus umbellatus, Water Starwort Callitriche stagnatilis and Whorled Water Milfoil Myriophyllum verticillatum all occur here and more than 40% of Britain's aquatic plant species can be found.
A good number of the commoner butterflies occur here and a range of dragonflies such as Broad-bodied Chaser Libellula depressa and Brown Hawker Aeshna grandis, and damselflies including Azure Coenagrion puella and Blue-tailed Ischnura elegans.
Otter Lutra lutra has been reintroduced to the Washes and other mammals present include Water Shrew Neomys fodiens and Harvest Mouse Micromys minutus.
Site Information
History and Use
In the 17th cenury two parallel rivers were excavated in an attempt to drain this area of its floodwater for agriculture.
Areas of Interest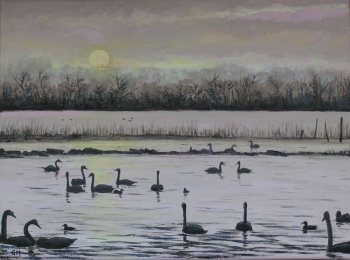 The Ouse Washes are best viewed from the two major reserves, Welney Wildfowl and Wetlands Trust Refuge and the Ouse Washes RSPB Reserve.
Welney, a Wildfowl Trust reserve, is on the east bank in the northern part of the Washes and reached by a minor road which leaves the A1101 immediately before the bridge on the crossing to Welney village.
The RSPB reserve is on the west bank at Welches Dam and is signposted from Manea village which lies to the north-west of Ely and can be reached on the B1093 from Chatteris.
Access and Facilities
Both reserves are superbly equipped and have car-parks, visitor centres with toilets and observation hides.
Grid Ref: Grid Ref: TL471860 (Ouse Washes)
Contact Details
Tel: 01354 680212 (RSPB Reserve)
Tel: 01353 860711 (Welney)
External Links
Welney Wildfowl and Wetlands Trust Refuge
Content and images originally posted by Steve
Reviews
fen tiger's review
Pros
good disabled acess
great place to encourage children to enjoy wildlife
feeders near centre
woodpeckers
blue and great tits
kingfishers
egrets. always something different!
Cons
can get like a doctors sergery in hides shhhh!