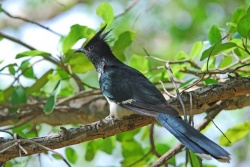 Genus: Oxylophus
Description
If accepted, this genus would contain two species of Cuckoos:
Both species differ in plumage and wing shape from Chestnut-winged Cuckoo and Great Spotted Cuckoo.
Both also occur in a dark morph.
Taxonomy
Oxylophus would be a genus in the Family Cuculidae.
It's usually included in the genus Clamator.
References
Del Hoyo, J, A Elliot, and J Sargatal, eds. 1997. Handbook of the Birds of the World. Volume 4: Sandgrouse to Cuckoos. Barcelona: Lynx Edicions. ISBN 978-8487334221
Recommended Citation
This category currently contains no pages or media.