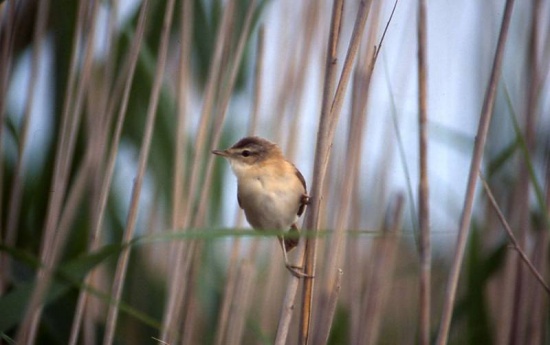 Acrocephalus agricola
Identification
12–14 cm (4¾-5½ in)

Plumage varies through the season from rusty to palish-buff unstreaked upperparts
Whitish underparts
Whitish supercilium
Short bill, with yellowish lower mandible
Long tail

Sexes similar
Similar Species
Eurasian Reed Warbler which has longer wings and shorter tail, and less marked supercillium.
Distribution
Breeds in central Eurasia; winters in southern Asia
Rare, but regular vagrant to western Europe
Taxonomy
This is a monotypic species[1][3][4].
Habitat
Low dense vegetation such as long grass, reeds and rice, besides lakes and marshes
Behaviour
Action
Flicks and cocks the tail.
Breeding
Nests low in reeds. Their clutch contains 4-5 eggs. There may be a second brood.
Diet
Gleans insects such as mayflies, dragonflies, bugs, cicadids and caddis flies from reeds and also in tree canopy.
Vocalisation
Calls and song less harsh than Marsh Warbler.
Call: chek and zak
References
Clements, J. F., T. S. Schulenberg, M. J. Iliff, D. Roberson, T. A. Fredericks, B. L. Sullivan, and C. L. Wood. 2018. The eBird/Clements checklist of birds of the world: v2018. Downloaded from http://www.birds.cornell.edu/clementschecklist/download/
Avibase
Hering, J., Flade, M. & Wink, M. (2015): Records of Paddyfield Warbler Acrocephalus agricola in Turkey and evidence for a monotypic taxon. Sandgrouse 37(2): 130–136.
Birdforum thread discussing taxonomy of this species
Collins Field Guide 5th Edition
Collins Bird Guide ISBN 0 00 219728 6
Handbook of the Birds of the World Alive (retrieved May 2019)
Recommended Citation
External Links