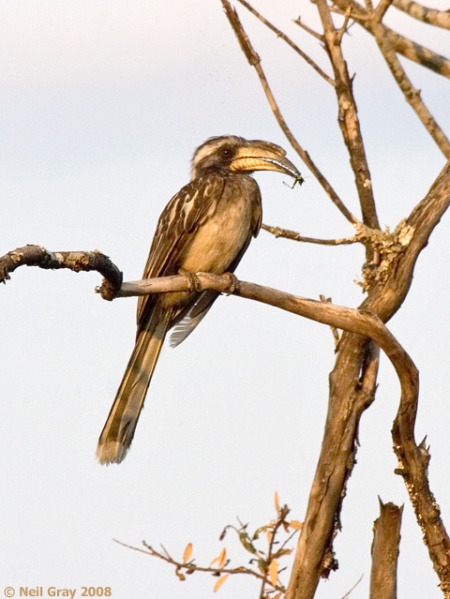 Lophoceros pallidirostris
Identification
43 - 50cm. A small, greyish hornbill.
Pale grey and brown above
White stripe behind eye
White tip to dark grey tail
White underparts
Pale yellow bill with greyish tip and fairly low casque
neumanni is smaller, has a paler head and a red tip to the bill
Females are smaller, have a smaller casque ridge and a browner eye.
Juveniles have a small, casqueless bill.
Distribution
From Angola east to Tanzania, Mozambique and Zambia.
Recorded as vagrant in Kenya.
Widespread and locally common.
Taxonomy
Two subspecies recognized:
Forms a superspecies with African Grey Hornbill.
Formerly placed in the genus Tockus.
Habitat
Found in extensive stands of dense deciduous miombo woodland.
Usually in denser, less open woodland than African Grey Hornbill.
Behaviour
Diet not well known. Probably mostly insectivorous.
Forages among foliage, sometimes on ground.
Breeding little known. Nests in a natural cavity in a tree, the entrance is sealed to a narrow slit. Lays 4-5 eggs.
References
Del Hoyo, J, A Elliot, and J Sargatal, eds. 2001. Handbook of the Birds of the World. Volume 6: Mousebirds to Hornbills. Barcelona: Lynx Edicions. ISBN 978-8487334306
Clements, J. F., T. S. Schulenberg, M. J. Iliff, D. Roberson, T. A. Fredericks, B. L. Sullivan, and C. L. Wood. 2015. The eBird/Clements checklist of birds of the world: v2015, with updates to August 2015. Downloaded from http://www.birds.cornell.edu/clementschecklist/download/
Recommended Citation
External Links