Alternative name: Pallas's Reed Bunting
Emberiza pallasi
Identification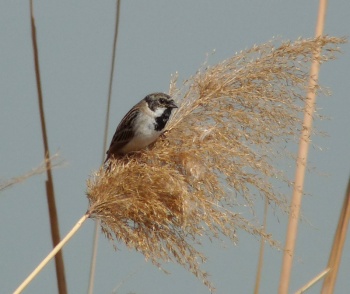 Length 12-13.5 cm (4¾-5¼ in), weight 10-20 g
Overall, a pale bunting similar to a small Reed Bunting but with a 'frosted' appearance. Bill small, conical, with a straight culmen.
Male
Greyish-brown upperparts with black streaks; little or no brown tones
White lower breast, belly, undertail coverts
Black head, throat, upper breast
White collar and moustachial stripe
Black tail with white outer feathers
Bill black in breeding season, paler pinkish in winter

Female
Lacks black in plumage
Slightly browner overall
Bill pinkish
Similar species
Reed Bunting is very similar, but slightly larger and much darker and browner; also has a stouter bill with a slightly curved culmen and dark grey where Pallas's is pink (both have black bills in breeding males).
Distribution
Asia: breeds in northeast Asia in eastern Russia and Mongolia, winters in China, Japan (rare), Korea and Taiwan. A very rare vagrant to Europe in late autumn.
Taxonomy
Subspecies
There are 3 subspecies[1]:
Mountains of central and eastern Asia; winters to western China
Mountains of central Mongolia
An additional subspecies minor is not recognised by all authorities[2].
Habitat
Breeds in wetland reed beds and beside lakes; along streams in taiga and tundra; winters in grasslands and marshlands. On passage found in more scrubby areas.
Behaviour
Diet
They feed mainly on seeds and other plant materials with insects and invertebrates in the winter time. During the breeding season they concentrate on invertebrates.
Breeding
Their nest is constructed from grass and sedges and lined with hair and fine grasses.
References
Clements, J. F., T. S. Schulenberg, M. J. Iliff, D. Roberson, T. A. Fredericks, B. L. Sullivan, and C. L. Wood. 2017. The eBird/Clements checklist of birds of the world: v2017, with updates to August 2017. Downloaded from http://www.birds.cornell.edu/clementschecklist/download/
Avibase
What Bird
Handbook of the Birds of the World Alive (retrieved Sept 2017)
Recommended Citation
External Links