Haliaeetus leucoryphus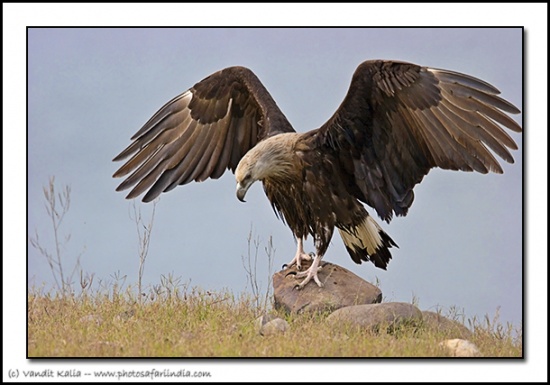 Identification
72-84 cm (28¼-34 in) in length and its wingspan can reach 205 cm (81 in)
Light brown hood over a white face. Dark brown wings, rufous back, darker underneath. The tail is black with a wide, distinctive white stripe. Underwings have a white band.
Juveniles are overall darker with no band on the tail.
Distribution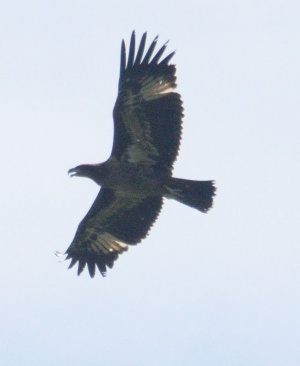 Central Asia - between the Caspian Sea and the Yellow Sea, from Kazakhstan and Mongolia to the Himalayas and northern India.
A migrant in northern parts of its breeding range leaving in October to winter from Iran to India and rarely to northern Indochina, returning from February onwards.
Formerly bred in the extreme east of the Western Palearctic to the north of the Caspian Sea and once a regular visitor to the Volga region and Ukraine in summer and Iraq in winter.
Today this is a rare vagrant in the Western Palearctic especially outside the area of the former USSR. There are three old records for northern Europe, in Finland, Norway and Poland, all were in June-July and involved immature birds. More recently, in March 1992 one was recorded in the Warta Valley, Poland but a bird seen in Germany, Denmark and the Netherlands in 1976 was probably an escape.
Taxonomy
This species is the most hard-to-place sea-eagle. Among the species of its genus, it has no close living relatives. mtDNA cytochrome b sequence data is unable to reliably suggest a phylogenetic place for it among the sea-eagles.
Habitat
Lakes and large rivers, sometimes inland seas. In winter often seen in arid areas or steppe, though sometimes coastal.
Behaviour
Diet
Their diet consists primarily of large freshwater fish.
References
Clements, J. F., T. S. Schulenberg, M. J. Iliff, D. Roberson, T. A. Fredericks, B. L. Sullivan, and C. L. Wood. 2018. The eBird/Clements checklist of birds of the world: v2018. Downloaded from http://www.birds.cornell.edu/clementschecklist/download/
Handbook of the Birds of the World Alive (retrieved March 2019)
Recommended Citation
External Links