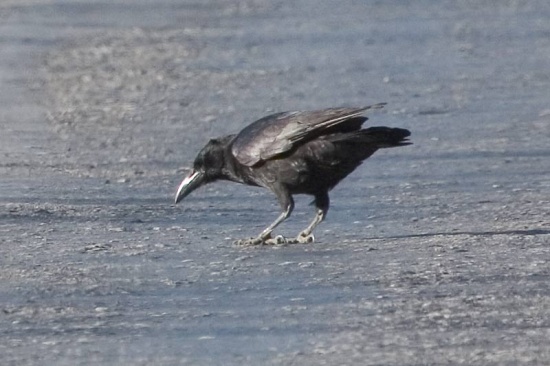 Corvus minutus
Includes: Hispaniolan Palm Crow; Cuban Palm Crow
Identification
34 - 38cm.
Black plumage with purble-blue iridescence
Brown iris
Short, stout, sharp-pointed bill
Well-developed nasal bristles covering nostrils
Sexes similar, males larger than femals. Juveniles are duller than adults.
Similar Species
It is similar to the Cuban Crow but is smaller, with shorter wings and elongated tufts over the upper mandible.
Distribution
Dominican Republic, Haiti and western Cuba.
Formerly abundant and still not uncommon on Hispaniola. Rare and local in Cuba, confined to Camaguey province now.
Taxonomy
Two subspeces recognized:
Both subspecies are sometimes treated as full species.
Appears to be closely related to the Fish Crow of the eastern seaboard of the United States and also two smaller species, the Tamaulipas Crow and Sinaloa Crow of Mexico and forms a species group with them.
Habitat
Mountain pine forests, arid brush and hill country. Also in lowland cultivation with some palm trees. Often between 1300 - 1900m on Hispaniola.
Behaviour
Feeds on invertebrates (beetles, caterpillars, cicadas, snails), liards and fruits. Usually foraging in pairs or small groups on the ground.
Breeding season from March to July in Cuba. Obviously a solitary nester. The nest is made of sticks and placed among tree branches or in a palm tree. Lays 4 eggs. Breeding habits poorly known.
No information about movements.
References
Clements, JF. 2011. The Clements Checklist of Birds of the World. 6th ed., with updates to August 2011. Ithaca: Cornell Univ. Press. ISBN 978-0801445019. Spreadsheet available at http://www.birds.cornell.edu/clementschecklist/downloadable-clements-checklist
Del Hoyo, J, A Elliott, and D Christie, eds. 2009. Handbook of the Birds of the World. Volume 14: Bush-shrikes to Old World Sparrows. Barcelona: Lynx Edicions. ISBN 978-8496553507
Recommended Citation
External Links