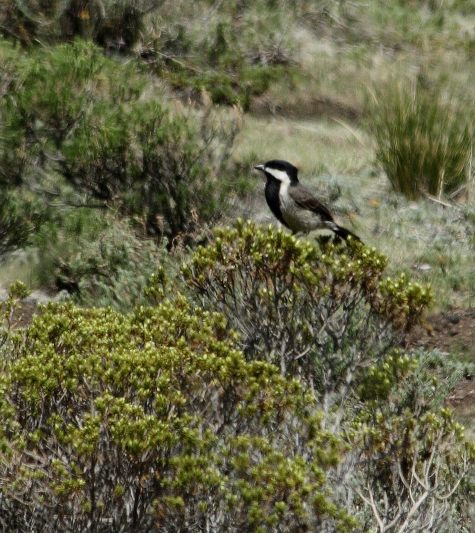 Melaniparus afer
Identification
Length 14-15 cm, mass 17-22 g.
Adult male: Crown and lores to nape glossy black. Broad buffy white band from the base of the bill to the sides of the neck. Mantle, back, rump and upper wing coverts dark greyish brown; flight feathers and primary coverts edged buff. Chin, throat, centre of breast and centre of belly black; flanks and sides of belly and breast pinkish buff. Bill black, eyes brown and legs and feet grey.
Adult female: Similar to the male, but black cap less glossy and bib smaller.
Distribution
South Africa south of 28°S and west of 29°30'E, Lesotho and south-western Namibia (south of 26°S).
Taxonomy
Formerly placed in genus Parus.
Subspecies
Melaniparus afer has two subspecies:1
Habitat
Woodland, shrubland, cropland and farmyards.
Behaviour
Diet
Found in pairs or small groups; forages in branches and foliage of trees and shrubs mainly for insects and other invertebrates, also some fruit; calls often while foraging.
Breeding
A cooperative breeder. The nest is a pad of fine material at the bottom of a cavity, often in a tree, earth bank or stone wall. Two to five eggs are laid July to March.
References
Hockey, PAR, WRJ Dean, and PG Ryan, eds. 2005. Roberts' Birds of Southern Africa. 7th ed. Cape Town: John Voelcker Bird Book Fund. ISBN 978-0620340533
Clements, J. F., T. S. Schulenberg, M. J. Iliff, D. Roberson, T. A. Fredericks, B. L. Sullivan, and C. L. Wood. 2014. The eBird/Clements checklist of birds of the world: Version 6.9., with updates to August 2014. Downloaded from http://www.birds.cornell.edu/clementschecklist/download/
Recommended Citation
External Links