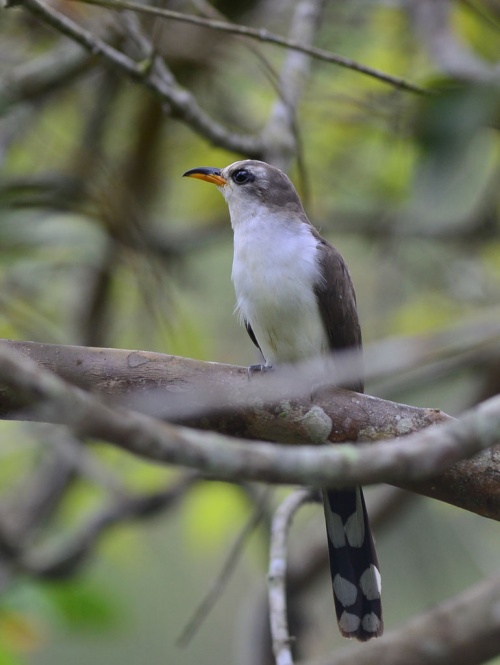 Coccyzus euleri
Identification
28cm (11 in).
Uniform earth-brown upperparts
Light pearly-grey below, whitish centre of belly
Long, blackish tail with white tips
Grey to black eyering
Brown to black eye
Bill black above, mostly orange or yellow below
Sexes similar, juveniles have rufous wings.
Similar species
Yellow-billed Cuckoo has inner webs of primaries brown (not white like Pearly-breasted Cuckoo) and shows some rufous on wings.
Distribution
Found from northeast Colombia and the Guianas through Amazonia and eastern Brazil south to northern Argentina. Probably only a winter visitor to Colombia and the Guianas.
Rare to uncommon in its range.
Taxonomy
This is a monotypic species.
Forms a superspecies with Yellow-billed Cuckoo.
Habitat
Tropical evergreen forest, gallery forest and secondary forest. Also in scrub and sandy woodland. Occurs from sea-level up to 900m.
Behaviour
Diet
Feeds on insects, mainly caterpillars.
Breeding
Little known. Breeding recorded in October. No nest described.
Movements
An austral migrant. Limits of breeding and non-breeding grounds not well known.
References
Clements, J. F., T. S. Schulenberg, M. J. Iliff, D. Roberson, T. A. Fredericks, B. L. Sullivan, and C. L. Wood. 2016. The eBird/Clements checklist of birds of the world: v2016, with updates to August 2016. Downloaded from http://www.birds.cornell.edu/clementschecklist/download/
Del Hoyo, J, A Elliot, and J Sargatal, eds. 1997. Handbook of the Birds of the World. Volume 4: Sandgrouse to Cuckoos. Barcelona: Lynx Edicions. ISBN 978-8487334221
Recommended Citation
External Links