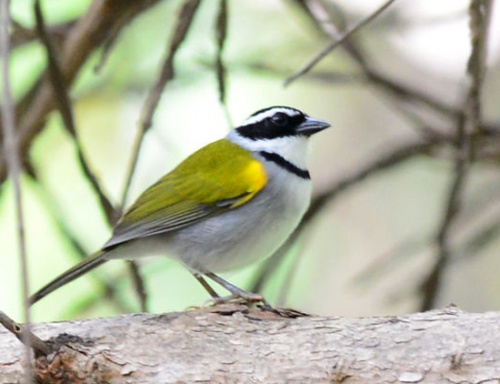 Arremon taciturnus
Identification
15 cm (6 in)
Male: The breast band is complete in most individuals of the nominate subspecies, but there is variation. Mandible is black in the nominate form, but yellow in the northern birds. The nominate form has narrow and pale grey flanks, while these are darker and wider in northern birds. The shoulder area of the wing is yellow.
Female: lacks breast band in the nominate form, but may show trace of breast band elsewhere.
Similar Species
Half-collared Sparrow is very similar but never shows the yellow shoulder; it is found south of but adjacent to the nominate form of Pectoral Sparrow which differ in flank color, mandible color, and in having a complete breast band (but Half-collared Sparrow is, except for lacking the yellow shoulder, more similar in plumage to the northern forms of Pectoral Sparrow).
Distribution
South America: found in Colombia, Venezuela, Guyana, Suriname, French Guiana, Peru, Bolivia and Brazil.
Taxonomy
Half-collared Sparrow was considered a subspecies of Pectoral Sparrow by some authorities.
Subspecies
There are 3 subspecies[1]:
Habitat
Lowlands; where adjacent to Half-collared Sparrow, Pectoral Sparrow tends to be found at lower elevation.
Behaviour
Diet
Their is little information about their diet, but it is likely to consist of seeds and arthropods. They forage on the ground in the undergrowth and among shrubs.
Breeding
Their nest is a ball constructed from grasses, with a side entrance. It is placed in a low shrub or bottom of a palm.
Vocalization
Tends to start with some thin tseet notes followed by three drawn out notes of a screechy quality[2].
Gallery
Click on photo for larger image
References
Clements, J. F., T. S. Schulenberg, M. J. Iliff, D. Roberson, T. A. Fredericks, B. L. Sullivan, and C. L. Wood. 2017. The eBird/Clements checklist of birds of the world: v2017, with updates to August 2017. Downloaded from http://www.birds.cornell.edu/clementschecklist/download/
SACC proposal to split Half-collared Sparrow from Pectoral Sparrow
Avibase
Handbook of the Birds of the World Alive (retrieved Oct 2017)
Recommended Citation
External Links