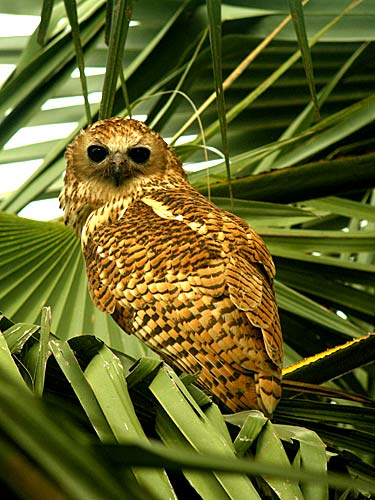 Scotopelia peli
Identification
51-61 cm (20-24 in)
Mainly buff to rufous, with upperside more strongly colored. Dusky anchor marks and vermiculations found, more strongly marked on the upperside.
Legs and feet bare, pale straw, with long, curved, grey claws.
Eye dark brown to blackish, bill dark with grey bare skin.
There is significant difference among individuals in how rufous they are.
Similar species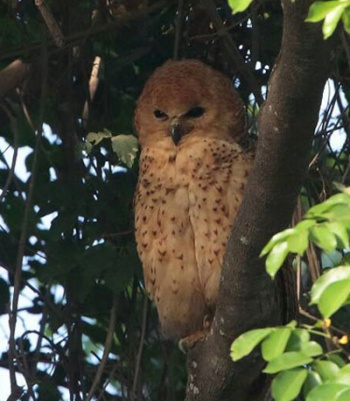 Rufous Fishing Owl and Vermiculated Fishing Owl both significantly smaller and with more streaking on underside. The first of these has darker rufous colors, the second has paler underparts, and they differ in color of eye and bill.
Distribution
Spot-wise distribution in Africa south of Sahara
Taxonomy
Some authorities place this species in genus Bubo (Scotopelia would then be a subgenus for the fishing owls).
Habitat
Rivers with forests of overhanging trees, swamps, and lakes as long as mature trees are found. Inhabits locations from sea level to about 1700 m asl.
Behaviour
Diet
Unusually for an owl its diet is mainly fish. Baby crocodiles, crabs, frogs, and mussels are also taken. It hunts exclusively at night, swooping down on its prey with its huge curved talons.
Breeding
Monogamous. Their breeding effort is timed to coincide with falling water levels, which means their prey is more concentrated when feeding the nestlings.
Movements
Mostly resident but moves as conditions change, e.g., when rivers dry out.
References
Clements, J. F., T. S. Schulenberg, M. J. Iliff, D. Roberson, T. A. Fredericks, B. L. Sullivan, and C. L. Wood. 2017. The eBird/Clements checklist of birds of the world: v2017, with updates to August 2017. Downloaded from http://www.birds.cornell.edu/clementschecklist/download/
König, C. and F. Weick 2008. Owls of the World, second edition. Christopher Helm, London. ISBN 978-0-7136-6548-2
Handbook of the Birds of the World Alive (retrieved June 2018)
Recommended Citation
External Links