This article is incomplete.
This article is missing one or more sections. You can help the BirdForum Opus by expanding it.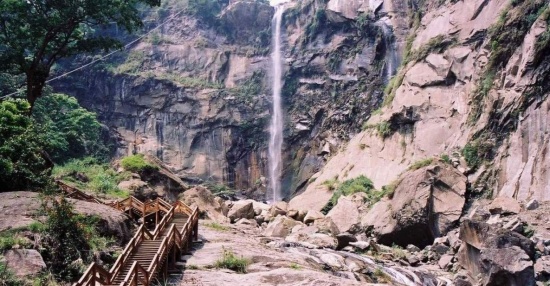 Overview
Penglai Pubu is situated about 2KM down Road 149 from the village of Tsaoling. Tsaoling (Caoling) is at an altitude of 800m in West-central Taiwan.
The area offers a good mix of low and mid altitude forest birds, but is not really well known as a birding destination. The area got shaken up quite badly in the big 921 Earthquake in September 1999. There is still a lot of damage in the area, which the local authorities have made into a type of "memorial" cum geological display, complete with information boards (most in Mandarin) and such like.
Penglai Pubu is a waterfall that was quite a popular picnic destination before the earthquake. It had a cable way and was very touristy. The earthquake put an end to the cable way, and bustling tourist trade. Now it's a great place to have a walk through some good forest, before coming to the waterfall.
Birds
Notable Species
Penglai is a very reliable area to see the endemic Taiwan Whistling Thrush (Myophonus insularis). This smallish shimmering deep blue beauty jumps from rock to rock at the base of the waterfall. The rocks below the waterfall are also frequented by the Plumbeous Water Redstart (Rhyacornis fuliginosus affinis, an endemic subspecies) and White Wagtail and Grey Wagtail.
The forest around the waterfall offers forest birds like Grey-cheeked Fulvetta, Swinhoe's White-eye, Grey Treepie, Bronzed Drongo, Black-naped Blue Monarch, Taiwan Scimitar Babbler, Chinese Bulbul, Black Bulbul, Grey-chinned Minivet, Crested Serpent Eagle, Crested Goshawk, Besra, Japanese Sparrowhawk, Grey-headed Pygmy Woodpecker, and Jungle Crow.
Penglai also has small numbers of the endemic Taiwan Sibia (Heterophasia auricularis). Their distinct call makes them quite easy to find. Don't despair if you don't see the Sibia at Penglai because the forests edges around Tsaoling Village are full of them. Shihpi, a few miles away has a few of the endemic Swinhoe's Pheasant (Lophura swinhoii), but these are rather hard to find.
Check-list
Birds you can see here include:
To do
Other Wildlife
Penglai is home to a number of Formosan Macaque or Rock Monkey.
Site Information
Remember that this is rural Taiwan and not much English is spoken in these parts.
History and Use
To do
Areas of Interest
To do
Access and Facilities
To get to the Tsaoling area, take the Douliou exit from the No.3 Highway. Once in Douliou, exit the town on the No.149 road and follow the Tsaoling signs. It takes about an hour from Douliou to Tsaoling. A bus runs from the area outside Douliou train station to Tsaoling. There are a number of hotels in and around Tsaoling.
Contact Details
To do
External Links

Content and images originally posted by Mark Bruce