Alternative names: Chatham Robin; Chatham Islands Robin; not to confuse with Turdus infuscatus from Central America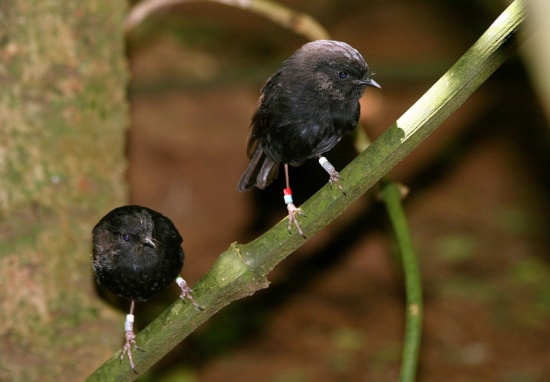 Petroica traversi
Identification
15 cm (6 in)
Black plumage
Short, slender black bill
Brownish-black feet with yellow-soles
Distribution
Chatham Islands (Mangere Island and South East Island), New Zealand.
In 1980 there were only 5 left. The surivial of this species is due to a female which was named "Old Blue" [due to her leg ring] and all Chatham Island Robins alive are descended from her.
Taxonomy
This is a monotypic species[1].
Habitat
Scrub forest.
Behaviour
Diet
The diet includes insects, cockroaches, worms and crickets.
Breeding
Monogamous. The clutch consists of 2 eggs.
References
Clements, J. F., T. S. Schulenberg, M. J. Iliff, D. Roberson, T. A. Fredericks, B. L. Sullivan, and C. L. Wood. 2017. The eBird/Clements checklist of birds of the world: v2017, with updates to August 2017. Downloaded from http://www.birds.cornell.edu/clementschecklist/download/
ARKive
Recommended Citation
External Links
GSearch checked for 2020 platform.