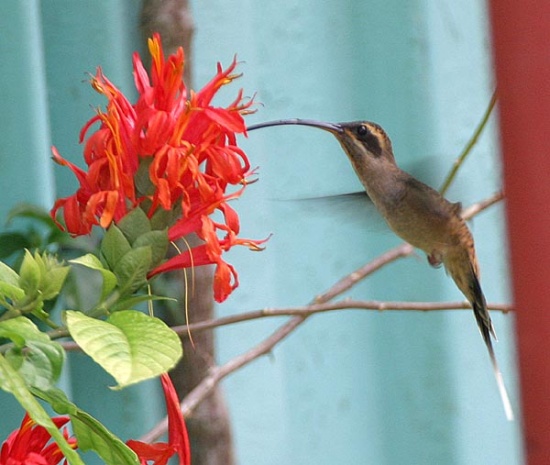 Alternative name: Western Long-tailed Hermit
Phaethornis longirostris
Identification
14-19 cm.
The bill is very long and decurved 2.5 to 3x the length of the head, with black culmen and lower mandible yellow (to flesh) tipped darker. The tail is strongly graduated and the central feathers are strongly elongated. Upperside generally described as bronzy green, but the birds from Panama (subspecies cephalus) have very little green on photos. Rump is washed in warm cinnamon. The upper side of the tail is very dark but each feather tipped buffy, whitish or grey depending on subspecies; the elongated central tail feathers have the extension either white or grey. There is a black mask from the auriculars, through the eye and covering the supraloral area, with white or buff stripes in front and behind, brown chin and throat but with white central stripe, underparts grey to buff to cinnamon in color. Upper wing coverts like upperparts, rest of wings blackish washed purple to maroon. The sexes are similar.
Similar species
See other members of the genus Phaethornis.
Distribution
Southern Mexico south to northwestern Colombia, extreme western Venezuela, western Ecuador and north-western Peru.
Taxonomy
Four subspecies are recognized: longirostris, cephalus, susurrus, and baroni
This species was included in Long-tailed Hermit (P. superciliosus) until this species was split into Eastern Long-tailed Hermit (P. superciliosus) and Western Long-tailed Hermit (P. longirostris). The two daughter species have since been renamed such that the eastern form became Long-tailed Hermit and the species described here became Long-billed Hermit.
Mexican Hermit is now split from this species. There is also a proposal that the subspecies P. l. baroni of western Ecuador and northwestern Peru should be raised to species status as Baron's Hermit. The second split has been rejected by the AOU, and is not recognized by the world-wide checklists.
Habitat
Forest undergrowth, usually near water and its preferred food plants.
Behaviour
The female builds a conical nest of fibres and cobwebs suspended under a large Heliconia or banana leaf. 2 white eggs are laid and are incubated by the female for 14-19 days, with another 18 to 28 days to fledging.
The diet includes nectar, taken from large flowers; small insects and spiders taken as an essential source of protein. Hatchlings are fed by the female with regurgitated invertebrates.
References
Clements, J. F., T. S. Schulenberg, M. J. Iliff, D. Roberson, T. A. Fredericks, B. L. Sullivan, and C. L. Wood. 2015. The eBird/Clements checklist of birds of the world: v2015, with updates to August 2015. Downloaded from http://www.birds.cornell.edu/clementschecklist/download/
AOU South American Classification Committee baseline; see notes 16 and 16a for taxonomy of this species.
Howell & Webb, 1995. A guide to the birds of Mexico and northern Central America. Oxford University Press. ISBN 0198540124
Gill, F. and M. Wright. 2006. Birds of the World: Recommended English Names. Princeton NJ: Princeton University Press. ISBN 0691128278
Restall et al. 2006. Birds of Northern South America. Yale University Press. ISBN 9780300124156
Ridgely & Gwynne 1989. Birds of Panama. Princeton Paperbacks. ISBN 0691025126
Recommended Citation
External Links