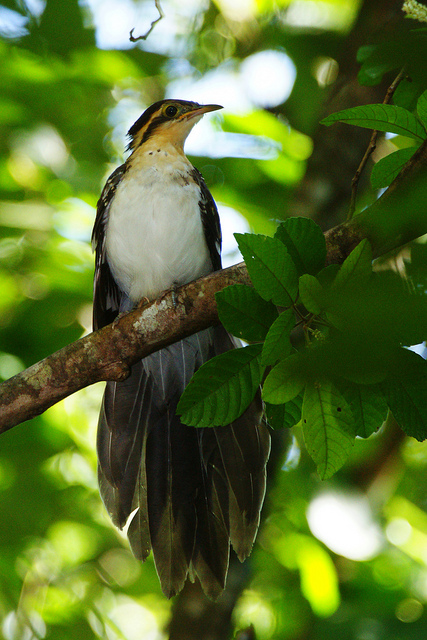 Dromococcyx phasianellus
Identification
15-16 inches/38 cm
Dark brown above, buffy-white below with breast band cinnamon having dark brown spots, short rufous crest, long and wide, graduated tail is dark with white tips.
Similar Species
Pavonine Cuckoo is darker and has paler eyes.
Distribution
Central and northern half of South America: found in the lowlands of southern Mexico to Brazil, Paraguay and north-eastern Argentina.
Taxonomy
This is a monotypic species[1].
Birds of Mexico and Central America are sometimes recognized as subspecies rufigularis.
Habitat
Tropical evergreen forest.
Behaviour
Secretive and solitary.
Diet
These birds feed on insects, lizards.
Breeding
Brood parasitic; hosts include flycatchers. Host offspring disappear after cuckoo hatches.
References
Clements, JF. 2011. The Clements Checklist of Birds of the World. 6th ed., with updates to August 2011. Ithaca: Cornell Univ. Press. ISBN 978-0801445019. Spreadsheet available at http://www.birds.cornell.edu/clementschecklist/downloadable-clements-checklist
Recommended Citation
External Links