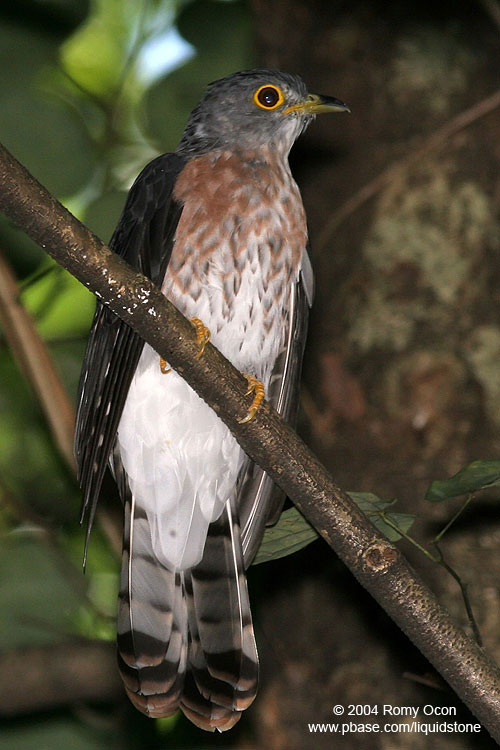 Hierococcyx pectoralis
Cuculus pectoralis
Identification
28cm.
Slate-grey above, wings barred grey-brown
White loral streak
Grey and black banded tail with broad subterminal black band and rufous tip
Grey chin
White throat
Bright rufous breast, sometimes with fine grey streaks)
White belly and undertail-coverts
Yellow eye-ring
Sexes similar. Juveniles have a blackish head with buff feather edges, a white nape, a streaked chin and a rufous wash on chest.
Distribution
Endemic to the Philippines (Palawan, Luzon, Mindoro, Sibuyan, Cebu, Negros, Leyte and Mindanao).
Uncommon to rare in its rapidly disappearing habitat.
Taxonomy
This is a monotypic species.
It was formerly considered conspecific with Malaysian Hawk-Cuckoo, Hodgson's Hawk-Cuckoo and Northern Hawk-Cuckoo.
Some authorities view Philippine Hawk-Cuckoo as belonging to genus Cuculus.
Habitat
Virgin mossy to dipterocarp forest. Occurs up to 2400m.
Behaviour
Diet
Feeds on insects, mainly caterpillars. Takes also berries.
Breeding
Very little known. A brood parasitic.
Movements
A resident species.
References
Clements, J. F., T. S. Schulenberg, M. J. Iliff, B.L. Sullivan, C. L. Wood, and D. Roberson. 2012. The eBird/Clements Checklist of Birds of the World. 6th ed., with updates to October 2012. Ithaca: Cornell Univ. Press. ISBN 978-0801445019. Spreadsheet available at http://www.birds.cornell.edu/clementschecklist/downloadable-clements-checklist
Del Hoyo, J, A Elliot, and J Sargatal, eds. 1997. Handbook of the Birds of the World. Volume 4: Sandgrouse to Cuckoos. Barcelona: Lynx Edicions. ISBN 978-8487334221
Recommended Citation
External Links