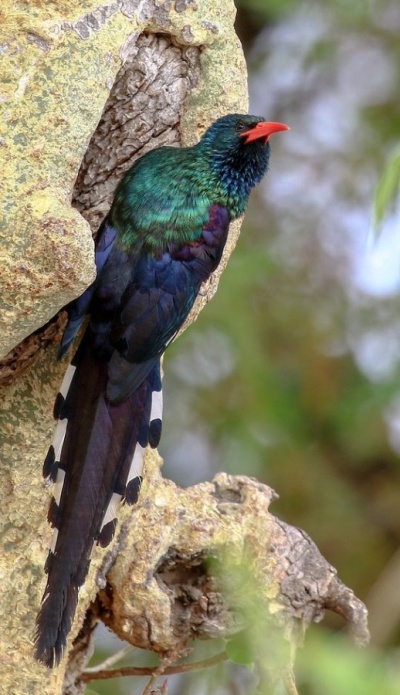 Phoeniculus purpureus
Identification
32·5–40 cm (12¾-15¾ in)
Glossy-green plumage
Bluish head and throat
Violet nape
Despite its name this bird frequently appears to be far more blue than green.
Distribution
Africa from Senegambia in the West, to Ethiopia and north-western Somalia in the East and then South to northern and eastern Botswana and central and eastern South Africa.
Taxonomy
Subspecies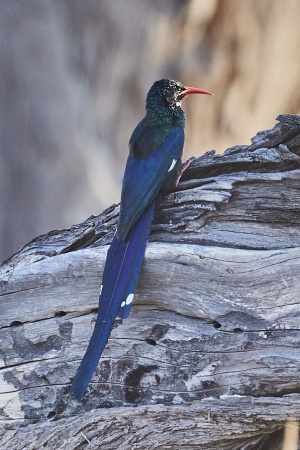 Phoeniculus purpureus has six subpecies[1]:
Habitat
A wide variety of habitats, including savanna and woodland.
Behaviour
Diet
It is an agile, arboreal bird which clings to branches, often hanging upside down while it probes crevices in the bark looking for the arthropods which make up most of its diet. The birds are communal, traveling in noisy groups and protecting their territory.
Breeding
They breed co-operatively.
Gallery
Click on photo for larger image
References
Clements, J. F., T. S. Schulenberg, M. J. Iliff, D. Roberson, T. A. Fredericks, B. L. Sullivan, and C. L. Wood. 2018. The eBird/Clements checklist of birds of the world: v2018. Downloaded from http://www.birds.cornell.edu/clementschecklist/download/
Handbook of the Birds of the World Alive (retrieved November 2014)
Recommended Citation
External Links