Alternative name: Terrestrial Bulbul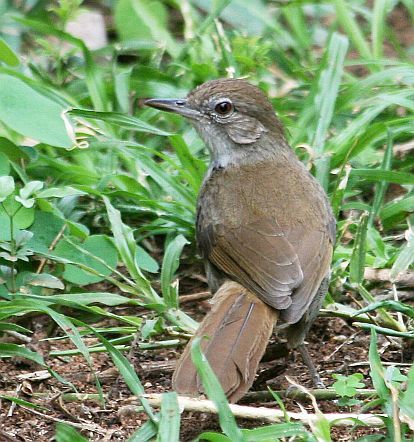 Identification
Upper parts dark brown with ginger-brown lower back and rump. Throat white, breast and belly pale creamy yellow, and flanks brownish yellow. Eyes red to red-brown with a narrow white eye-ring.
Easiest to locate and identfy by call (see Behaviour).
Distribution
Sub-Saharan Africa: Angola, Namibia, Zambia, DRC, Malawi, Tanzania, Kenya, Somalia, Botswana, Zimbabwe, South Africa.
Taxonomy
Phyllastrephus terrestris has three subspecies:1
Habitat
Understory of forests, thickets and dense scrub.
Behaviour
Forages in small groups, mainly for invertebrates, but also small reptiles, fruit, seeds and nectar. Often located by noisy flicking of leaf litter or harsh, churring "wakkity-wakkity-wakkity" alarm calls.
Breeding
Monogamous and territorial. The nest is an untidy cup of plant material built by both sexes, usually 1-2 m above the ground in a bush or thicket. Two to three egges are laid and incubated by both sexes for about 13 days.
References
Clements JF. 2007. The Clements Checklist of Birds of the World. 6th ed., with updates to October 2008. Cornell University Press. ISBN 9780801445019
Hockey PAR, Dean WRJ & Ryan PG (eds) 2005. Robert's Birds of Southern Africa, 7th edition. John Voelcker Bird Book Fund, Cape Town, South Africa. ISBN 0620340533
Sinclair I & Ryan P. 2003. Birds of Africa south of the Sahara. Princeton University Press. ISBN 0620207299
Recommended Citation
External Links