This article is incomplete.
This article is missing one or more sections. You can help the BirdForum Opus by expanding it.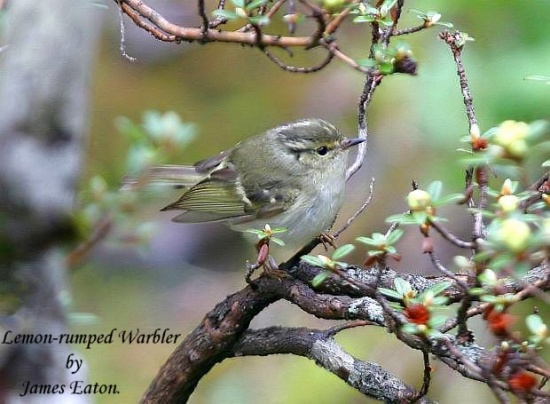 Alternative name: Pale-rumped Warbler
Phylloscopus chloronotus
Identification
Very similar to Pallas's Leaf Warbler and Gansu Leaf Warbler, differing mainly in calls and song, but also in its supercilium, crown stripe and wingbars being whiter, less yellow.
Distribution
The mountains of the Himalaya to south-central China.
Taxonomy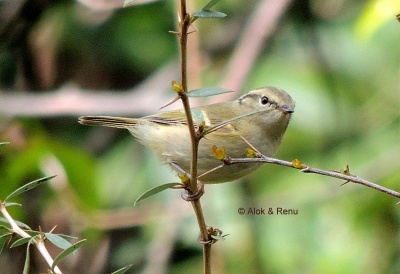 Pale-rumped Warbler was until recently lumped with Pallas's Leaf Warbler, Chinese Leaf Warbler, and Gansu Leaf Warbler in Pallas's Warbler.
Three subspecies are accepted:
P. c. forrestii: southwest China
P. c. chloronotus: central and eastern Himalaya
P. c. simlaensis (Simla Warbler): western Himalaya. Status disputed; may be anything between a distinct species and invalid due to clinal variation[4] .
Note: the name Lemon-rumped Leaf Warbler has been used in the past for both Pallas's Leaf Warbler and Pale-rumped Warbler by different authorities, but primarily for Pale-rumped Warbler subsequent to the split.
Habitat
Behaviour
References
Clements, J. F., T. S. Schulenberg, M. J. Iliff, S. M. Billerman, T. A. Fredericks, B. L. Sullivan, and C. L. Wood. 2019. The eBird/Clements Checklist of Birds of the World: v2019. Downloaded from http://www.birds.cornell.edu/clementschecklist/download/
Del Hoyo, J, A Elliot, and D Christie, eds. 2006. Handbook of the Birds of the World. Volume 11: Old World Flycatchers to Old World Warblers. Barcelona: Lynx Edicions. ISBN 978-8496553064
Gill F, D Donsker & P Rasmussen (Eds). 2021. IOC World Bird List (v11.1). doi : 10.14344/IOC.ML.11.1. http://www.worldbirdnames.org/#Alström, P. (2006). Species concepts and their application: insights from the genera Seicercus and Phylloscopus. Acta Zoologica Sinica 52 (Supplement): 429-434.
Recommended Citation
External Links