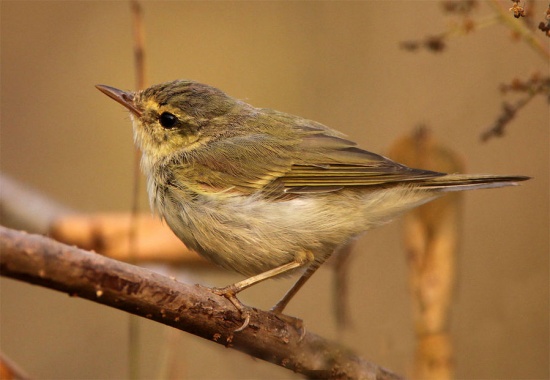 Phylloscopus trochiloides
Identification
10–11·5 cm
Greyish-green (or dark green) upperparts
Off-white underparts
Long supercilium (from bill to nape)
Similar Species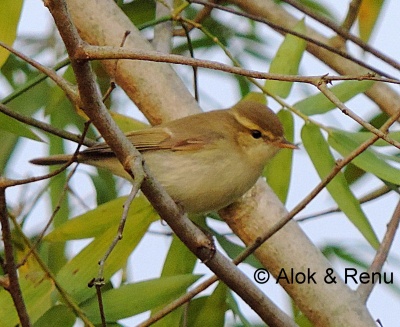 It has a single wing bar unlike most similar species, except Arctic Warbler, which is slightly larger and has a thicker bill.
Distribution
Europe, Africa and Asia
Eastern Europe: Scandinavia : Sweden, Finland, Denmark; Baltic States, Estonia, Latvia, Lithuania, Belarus, Poland, Czechoslovakia, Bulgaria, Ukraine
Northern Africa: occurs only in Egypt
Middle East: Turkey, Arabian Peninsula, Saudi Arabia, Kuwait, Iran and Georgia
Asia: Russia, Siberia, Kazakhstan, Uzbekistan, Turkmenistan, Afghanistan, Mongolia, China, Tibet, Nepal, Pakistan, India, Andaman, Eastern and Western Himalayas, Bangladesh, Bhutan and Korea
Southeast Asia: Indochina, Myanmar, Laos, Vietnam, Thailand, Malaysia and Malay Peninsula
This species occurs as a spring or early autumn vagrant in western Europe and is annual in Great Britain.
Taxonomy
Subspecies
There are 4 subspecies[1]:
Western Himalayas (Gilgit and Kashmir to Kumaon); winters to southern India
Two-barred Warbler and Green Warbler are sometimes included in this species.
Habitat
Mixed birch woodland and conifer forests, both lowland and montane. Breeds up to heights around 4500 m.
Behaviour
This warbler is strongly migratory.
Breeding
It breeds in lowland forests. The nest is on the ground in low shrub.
Diet
The diet consists mostly of insects.
Vocalisation
Its song is a high jerky trill.
Recording by china guy, Sichuan, China, August 2011
References
Clements, J. F., T. S. Schulenberg, M. J. Iliff, D. Roberson, T. A. Fredericks, B. L. Sullivan, and C. L. Wood. 2014. The eBird/Clements checklist of birds of the world: Version 6.9., with updates to August 2014. Downloaded from http://www.birds.cornell.edu/clementschecklist/download/
Avibase
Handbook of the Birds of the World Alive (retrieved February 2015)
Wikipedia
Recommended Citation
External Links