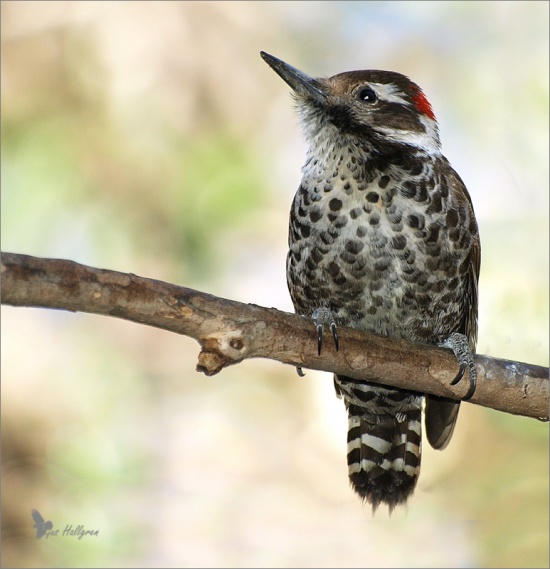 Dryobates arizonae
Identification
18cm.
Brown upperparts
Dark rump
White underparts speckled with many brown spots
Three white wing bars
Two white stripes across the face
White bar on the neck

Males have a red nape patch
Distribution
North and Central America: found in South-east Arizona, north and west Mexico.
Taxonomy
Formerly treated conspecific with Strickland's Woodpecker. Split now accepted by Clements and Howard & Moore.
Placed in genus Leuconotopicus by Gill and Donsker. Formerly included in genus Picoides
Subspecies[1]
Western Mexico (southern Sinaloa and adjacent Durango to Michoacán)
Habitat
Pine forests and mixed pine-oak slopes, wooded gardens and canyons at heights of about 4,500 to 7,000 feet.
Behaviour
Breeding
They nest in a cavity excavated from a dead tree trunk. Three to four white eggs are laid on a bed of wood chips.
References
Clements, JF. 2008. The Clements Checklist of Birds of the World. 6th ed., with updates to December 2008. Ithaca: Cornell Univ. Press. ISBN 978-0801445019.
Wikipedia
WhatBird
Recommended Citation
External Links