Spizocorys conirostris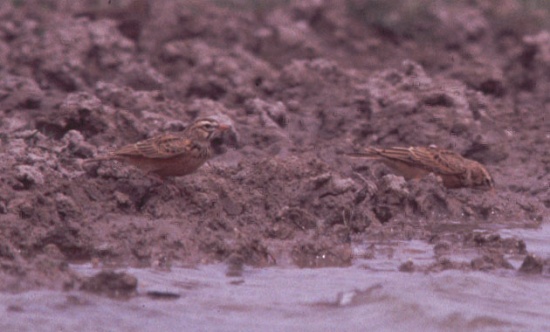 Identification
Length 12-13 cm, mass 12-17 g.
A small stocky Lark with a short, stout pink bill. The chin and throat are white, the breast is rufous-buff, streaked dark brown, and the belly and undertail coverts are rufous-buff.
Similar Species
Distribution
Southern Africa: Botswana, Lesotho, Namibia, South Africa, and Zambia.
Taxonomy
Subspecies
Spizocorys conirostris has six or seven subspecies[1]:
An additional subspecies griseovinacea is usually considered invalid[2].
Habitat
Subtropical or tropical dry grassland.
Behaviour
In groups of 5-20 when not breeding. Inconspicuous; usually on the ground, concealed in grass; crosses open ground quickly and seldom perches in an elevated position.
Diet
Forages for invertebrates and seeds.
Breeding
Monogamous. The nest is a cup of dry grass and rootlets. One to three eggs are laid after rain at any time of the year.
References
Clements, JF. 2009. The Clements Checklist of Birds of the World. 6th ed., with updates to December 2009. Ithaca: Cornell Univ. Press. ISBN 978-0801445019.
Avibase
Hockey, PAR, WRJ Dean, and PG Ryan, eds. 2005. Roberts' Birds of Southern Africa. 7th ed. Cape Town: John Voelcker Bird Book Fund. ISBN 978-0620340533
Recommended Citation
External Links