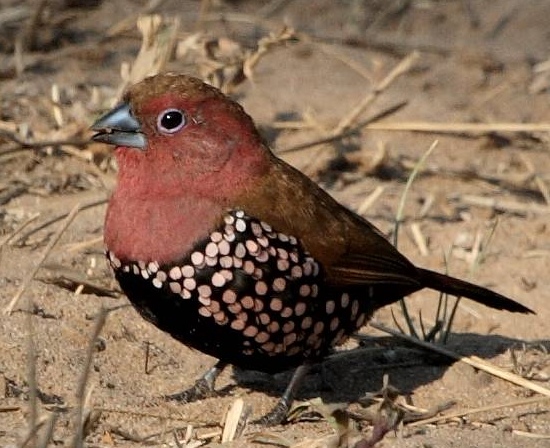 Hypargos margaritatus
Identification
Length 13 cm, mass 12.5-13.5 g. Male: Upperparts brown, except for the upper tail coverts which are deep pink. The face, throat and upper breast are also deep pink. The remainder of the underparts are black with white spots. The bill, legs, and feet are dark. The eyes are dark brown with a narrow pale pinkish-blue eye-ring. Female: Similar to the male but duller with the face, throat and upper breast grey.
Similar Species
Distribution
Restricted to southern Mozambique, eastern eSwatini, north-eastern KwaZulu-Natal, and eastern Mpumalanga, South Africa.
Taxonomy
Some consider this species and Peters's Twinspot Hypargos niveoguttatus to be conspecific.
Hypargos margaritatus is monotypic.
Habitat
Dry savanna and moist, subtropical/tropical (lowland) shrubland; Thickets, bush-clumps, and forest edges.
Considered near-threatened in South Africa and eSwatini; this concern is due to their limited range, habitat destruction within that range, and capture for the cage-bird trade.
Behaviour
These birds will forage singly, in pairs, or small groups on the ground, close to or in thickets, mainly for grass seeds. Foraging birds can be detected by their gentle contact trill, but they retreat to thick cover when disturbed.
References
Hockey PAR, Dean WRJ & Ryan PG (eds) 2005. Robert's Birds of Southern Africa, 7th edition. Cape Town: John Voelcker Bird Book Fund. ISBN 0620340533
External Links