Cotinga maynana
Identification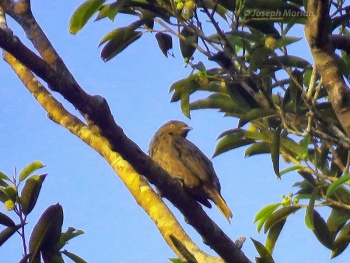 19½-20½ cm (7¼-8 in)
Male is turquoise blue with purple throat and light eyes; outer primaries are black and attenuated. Female is overall brown with indistinct buff scaling on upperparts and light spotting below; eyes usually light.
Similar Species
Spangled Cotinga is similar but male has black wing scalloping and female has dark eyes.
Distribution
Bolivia, Brazil, Colombia, Ecuador, and Peru.
Taxonomy
This is a monotypic species[1].
Habitat
Subtropical or tropical moist lowland forests, subtropical or tropical swamps, and heavily degraded former forest.
Behaviour
Usually sits motionless high in the canopy.
Breeding
Male display flights have been described, but its nest is unknown.
Diet
Fruit, especially mistletoe, usually taken while fluttering.
Vocalisation
None known. Males make a twittering noise with their wings.
Movements
Resident
References
Clements, J. F., T. S. Schulenberg, M. J. Iliff, D. Roberson, T. A. Fredericks, B. L. Sullivan, and C. L. Wood. 2018. The eBird/Clements checklist of birds of the world: v2018. Downloaded from http://www.birds.cornell.edu/clementschecklist/download/
Plum-throated Cotinga (Cotinga maynana), In Neotropical Birds Online (T. S. Schulenberg, Editor). Cornell Lab of Ornithology, Ithaca, NY, USA. retrieved from Neotropical Birds Online: https://neotropical.birds.cornell.edu/Species-Account/nb/species/pltcot1
Snow, D. (2019). Plum-throated Cotinga (Cotinga maynana). In: del Hoyo, J., Elliott, A., Sargatal, J., Christie, D.A. & de Juana, E. (eds.). Handbook of the Birds of the World Alive. Lynx Edicions, Barcelona. (retrieved from https://www.hbw.com/node/57035 on 12 July 2019).
Schulenberg, T. S. & Stotz, D. F. & Lane, D. F. & O'Neill, J. P. & Parker III, T. A. & Egg, A. B. (2010). Birds of Peru: Revised and Updated Edition. Princeton: Princeton University Press. ISBN 978-0691130231
Recommended Citation
External Links