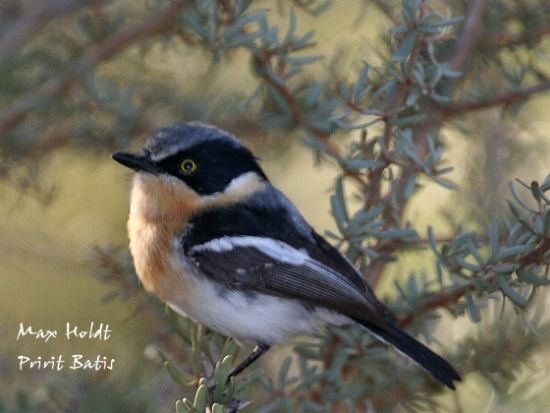 Batis pririt
Alternative names: Pririt Puff-back Flycatcher, Pririt Puffback
Identification
The adult male's crown is dark grey as is its back; it has a white throat and a black eye mask. Its tail and rump are black, its wings are black with white edging to the flight feathers, and it has a white shoulder patch. Its underparts are white with a black breastband. The female and juveniles have no black breast band and the throat and breast are buff.
Distribution
Western and central southern Africa.
Taxonomy
Batis pririt has two subspecies:[1]
Central and southern South Africa (excluding moist coastal belt)
Habitat
Dry broadleaf woodland and thorn scrub.
Behaviour
It builds a small cup shaped nest in a tree or bush. Its diet includes insects.
Vocalisation
The song is a slow descending series of whistled notes, teuu, teuu, teuu, teuu.
References
Hockey, PAR, WRJ Dean, and PG Ryan, eds. 2005. Roberts' Birds of Southern Africa. 7th ed. Cape Town: John Voelcker Bird Book Fund. ISBN 978-0620340533
Recommended Citation
External Links