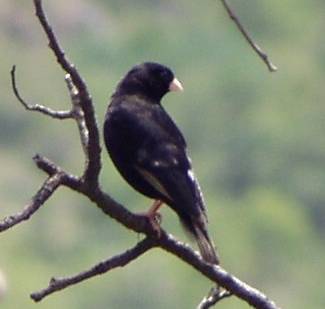 Alternative name: Purple Widowfinch
Vidua purpurascens
Identification
Length 10-11 cm, mass 13 g. Adult breeding male: Purpleish black to matt black plumage. The bill, legs and feet are white, pale pink or mauve, and the eyes dark brown. Female and nonbreeding male: Dark brown with rufous scaling above. The head is broadly striped buff and blackish. Off-white to buff below. The bill is greyish, and the feet and legs light pinkish grey.
The pale feet and legs distinguish this species from most other indigobirds, but in parts of Zimbabwe, Mozambique, Malawi and Zambia, the range overlaps with that of the northern race of the Variable or Dusky Indigobird Vidua funerea, which also has pale legs and feet. In these areas the two species cannot be distinguished in the field, other than by their song. The song of the Purple Indigobird includes imitations of the Jameson's Firefinch (its host), especially its 'fee' whistle and 'purr' alarm call.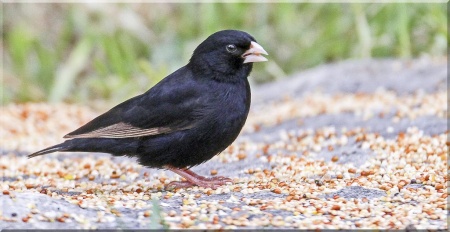 Distribution
North-eastern South Africa, Zimbabwe, north-eastern Botswana, southern and eastern Zambia, Malawi and Mozambique. Isolated populations in extreme northern Zambia and neighbouring Democratic Republic of Congo, southwestern Angola, Tanzania, and Kenya. This distribution lies within that of its host, Jameson's Firefinch.
Taxonomy
No subspecies are recognized, although there is regional variation in colour.
Habitat
Bushy woodlands, thornveld and riverine bush. This species prefers denser bush and taller grass than the Village Indigobird Vidua chalybeata.
Behaviour
The Purple Indigobird is a brood parasite. Three to four eggs are laid in nests of Jameson's Firefinches, which rear the young.
References
Fry H, Keith S,Woodcook M & Willis I. 2004. Birds of Africa Vol VII: Sparrows to Buntings. Princeton University Press. ISBN 0713665319
External Links