Batis perkeo
Identification
8-9 cm (3-3½ in)
Male
Black and white overall plumage
Short white, barely noticeable, supercilium
Yellowish-orange eye
Short tail

Female similar, but has a rufous breast band.
Similar Species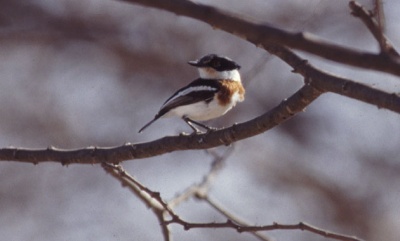 Chinspot Batis, which has a longer tail.
Distribution
Eastern Africa: Found in arid southern Ethiopia, south-eastern Sudan, north-eastern Uganda, southern Somalia, Kenya and extreme north-eastern Tanzania.
Taxonomy
This is a monotypic species[1].
Habitat
Dry areas with trees and scrub, woodland.
Behaviour
Their main diet consists of insects, mainly foraged in bushes and trees. The also sally out from perches.
Vocalisation
Drawn-out whistles and also harsh cackling.
References
Clements, JF. 2010. The Clements Checklist of Birds of the World. 6th ed., with updates to December 2010. Ithaca: Cornell Univ. Press. ISBN 978-0801445019. Spreadsheet available at http://www.birds.cornell.edu/clementschecklist/Clements%206.5.xls/view
Sinclair, I and P Ryan. 2003. Birds of Africa South of the Sahara. Princeton: Princeton Univ. Press. ISBN 978-0691118154
Handbook of the Birds of the World Alive (retrieved September 2016)
iNaturalist.org
Recommended Citation
External Links