This article is incomplete.
This article is missing one or more sections. You can help the BirdForum Opus by expanding it.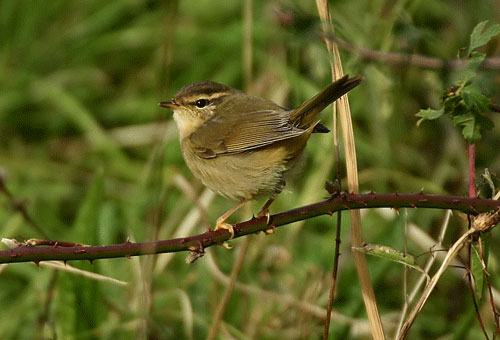 Phylloscopus schwarzi
Identification
This is a warbler similar in size to a Willow Warbler. The adult has an unstreaked brown back and buff underparts. There is a very long prominent whitish supercilium, and the pointed bill is thicker than that of the similar Dusky Warbler. The legs are paler than Dusky's, and the feet look large, reflecting the more terrestrial lifestyle of this warbler. The sexes are identical, as with most warblers, but young birds are yellower below. The call is a soft chick.
Distribution
This bird breeds in Siberia.
Taxonomy
Habitat
Open woodland with some undergrowth and near water.
Behaviour
It builds its nest in a bush.
Its diet includes insects.
Often feed on the ground.
External Links