This article is incomplete.
This article is missing one or more sections. You can help the BirdForum Opus by expanding it.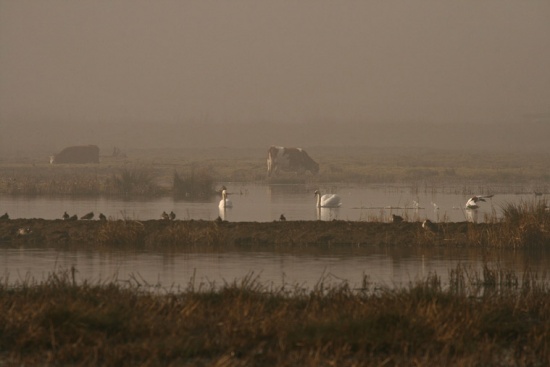 Overview
One of the best reserves within easy reach of London.
Birds
Notable Species
Bearded Tits and Water Pipits are among the most significant species at the site, and can be very obliging at times. Bearded Tits bred at the site in 2011 and successfully reared one young. Water Rail, Hobby, Stonechat, Cetti's Warbler, Grasshopper Warbler and Shelduck breed as well, and Peregrine Falcon and Marsh Harrier breed locally.
Greenland Wheatear, Osprey, Buzzards, Hen Harrier, Merlin and Red Kite are noticable migrants, and Red-breasted Mergansers are recorded annually in autumn.
Wintering birds number around 1500 Lapwing, 100 Black-tailed Godwit, 20 Curlew, 200 Dunlin, 100 European Golden Plover, 30 Shelduck, 20 Pintail, 1000 Teal, 200 Wigeon, 150 Shoveler, 100 Mallard, 30 Rock Pipit, 20 Little Egrets and a few Ruff.
Rarities
The Sociable Plover in 2005 is Rainham's most famous bird. Other rarities include Taiga and Tundra Bean Geese, White-tailed Plover, Black-winged Stilt, Semipalmated Plover, Spotted Sandpiper, Collared Pratincole, Lesser Kestrel, Red-footed Falcon, Common Crane, Western Sandpiper, Baird's Sandpiper, Buff-breasted Sandpiper, Solitary Sandpiper, Ring-billed Gull, Bluethroat, Alpine Swift and Aquatic Warbler. Penduline tits wintered between 2004 and 2008.
The site attracts less rarities then it once did, though there hasn't yet been close to a blank year yet.
Check-list
Birds you can see here include:
Mute Swan, Greylag Goose, Barnacle Goose, Canada Goose, Common Shelduck, Eurasian Wigeon, Mallard, Northern Pintail, Northern Shoveler, Gadwall, Garganey, Tufted Duck, Common Pochard, Red-breasted Merganser, Great Cormorant, Great Crested Grebe, Little Grebe, Common Moorhen, Eurasian Coot, Water Rail, Common Pheasant, Pied Avocet, Eurasian Oystercatcher, Northern Lapwing, Grey Plover, European Golden Plover, Ringed Plover, Little Ringed Plover, Dunlin, Eurasian Curlew, Common Sandpiper, Ruff, Green Sandpiper, Whimbrel, Common Snipe, Jack Snipe, Mediterranean Gull, Black-headed Gull, Common Gull, Herring Gull, Caspian Gull, Yellow-legged Gull, Lesser Black-backed Gull, Great Black-backed Gull, Common Tern, Arctic Tern, Sandwich Tern, Common Cuckoo, Common Wood Pigeon, Rock Pigeon, Eurasian Collared Dove, Stock Dove, Rose-ringed Parakeet, Shore Lark, Eurasian Skylark, Water Pipit, Rock Pipit, Meadow Pipit, Grey Wagtail, Yellow Wagtail, Pied Wagtail, Dunnock, Northern Wheatear, Eurasian Robin, European Stonechat, Eurasian Wren, Redwing, Fieldfare, Mistle Thrush, Song Thrush, Eurasian Reed Warbler, Sedge Warbler, Grasshopper Warbler, Common Chiffchaff, Willow Warbler, Blackcap, Cetti's Warbler, Goldcrest, Common Starling, Carrion Crow, Eurasian Jackdaw, Rook, House Sparrow, Eurasian Siskin, Common Redpoll, Eurasian Linnet, Eurasian Bullfinch, Brambling, European Greenfinch, Common Chaffinch, European Goldfinch, Reed Bunting, Corn Bunting
Other Wildlife
Common and Grey Seals, Harbour Porpoise and Dolphins can be seen in the right conditions. The site has breeding Red Fox, Stoat and Weasel; as well as a fair population of Harvest Mouse, Yellow-necked Mouse, Bank Vole, Water Vole, Short-tailed Vole and various Shrews.
Deadly Nightshade, Bee and Pyramidal Orchids, and Flowering Rush are amongst the many flowering plant species found. Horse Mushrooms are abundant around Purfleet tip.
Site Information
History and Use
Rainham was bought by the RSPB in 2000 from the military. There are many paintings, sculptures and preserved structures around the reserve, showing off the site's heritage. There is also a 3000 year old petrified tree stump.
Areas of Interest
It is always worth a walk along the sea wall. If you walk anti-clockwise you will reach gates to the seawall around three quarters of the way around. Large numbers of the waders and wildfowl are likely to be on the river, especially if the scrapes are frozen. Water pipits may be seen along the shore, especially when the tide is high, but are often best looked for at the "stone barges".
The majority of waterfowl can now be found at the new scrape overlooked from the shooting butts hide. If walking anti-clockwise, you will come to an unmarked viewing area shortly after the viewpoint over the lake. This is a little unfortunate for birders as it means the birds are now a little further away, though many more waders have been attracted by this new scrape.
The Ken Barrett Hide is always worth checking for Golden Plover, though these are often now on the new scrape.
Bearded tits are best encountered at the South-Western reedbed. There are two open areas on either side, both of which regularly attract bearded tit. The best way to see them is to record and play their call from one of these areas.
Access and Facilities
Located inside the M25 just west of the Dartford Crossing on the north bank of the Thames
Grid Ref: TQ552792
Contact Details
Tel: 01708 899840
External Links