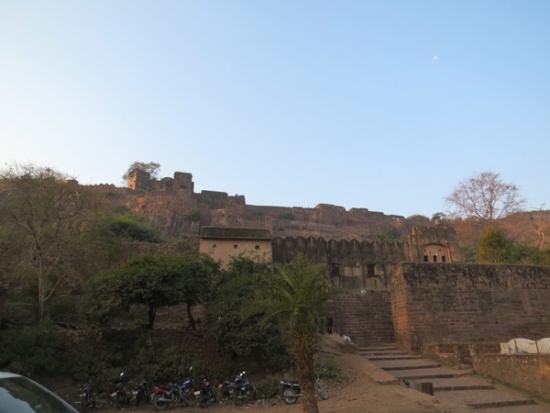 Overview
Ranthambore National Park is situated in southeastern Rajasthan and covers an area of 392 km².
The park is famous for its tigers and probably one of the best places in India to see them. The vast deciduous forest also holds a variety of birds and other mammals.
Birds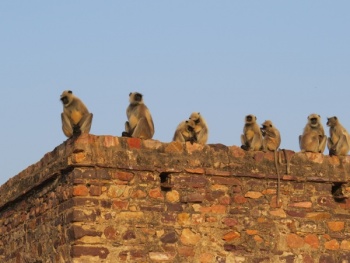 Notable Species
The park itself is an excellent place to see Painted Spurfowl. A visit to Soorwal dam outside of the park gives you a good chance to find the rare and endangered Indian Skimmer. Indian Vulture is still found in the park but, like in other places in India, is now very rare.
Check-list
Birds you can see here include:
Grey Francolin, Jungle Bush Quail, Rock Bush Quail, Painted Spurfowl, Indian Peafowl, Bar-headed Goose, Ruddy Shelduck, Gadwall, Eurasian Wigeon, Northern Shoveler, Common Teal, Little Grebe, Painted Stork, Asian Openbill, Greater Flamingo, Black-headed Ibis, Eurasian Spoonbill, Striated Heron, Indian Pond Heron, Grey Heron, Purple Heron, Eastern Cattle Egret, Great Egret, Intermediate Egret, Little Egret, Dalmatian Pelican, Little Cormorant, Great Cormorant, Common Kestrel, Peregrine Falcon, Black-winged Kite, Black Kite, Brahminy Kite, Osprey, Oriental Honey-Buzzard, Egyptian Vulture, White-rumped Vulture, Indian Vulture, Red-headed Vulture, Short-toed Eagle, Crested Serpent Eagle, Shikra, White-eyed Buzzard, Bonelli's Eagle, White-breasted Waterhen, Grey-headed Swamphen, Common Moorhen, Eurasian Coot, Black-winged Stilt, Pied Avocet, Red-wattled Lapwing, Yellow-wattled Lapwing, Little Ringed Plover, Ruff, Common Snipe, Black-tailed Godwit, Common Sandpiper, Little Stint, Curlew Sandpiper, Temminck's Stint, Wood Sandpiper, Green Sandpiper, Common Greenshank, Pallas's Gull, River Tern, Gull-billed Tern, Indian Skimmer, Spotted Dove, Laughing Dove, Yellow-footed Green Pigeon, Alexandrine Parakeet, Rose-ringed Parakeet, Plum-headed Parakeet, Greater Coucal, Spotted Owlet, Brown Fish Owl, Asian Palm Swift, Little Swift, Common Hoopoe, Indian Roller, White-throated Kingfisher, Common Kingfisher, Pied Kingfisher, Green Bee-eater, Brown-headed Barbet, Coppersmith Barbet, Eurasian Wryneck, Brown-capped Pygmy Woodpecker, Yellow-crowned Woodpecker, Lesser Goldenback, Indian Pitta, Common Woodshrike, Large Cuckooshrike, Common Iora, Small Minivet, Isabelline Shrike, Long-tailed Shrike, Black Drongo, Ashy Drongo, White-bellied Drongo, Indian Golden Oriole, White-browed Fantail, Rufous Treepie, Indian Jungle Crow, House Crow, Cinereous Tit, Dusky Crag Martin, Barn Swallow, Red-rumped Swallow, Greater Short-toed Lark, Crested Lark, Red-vented Bulbul, Grey-breasted Prinia, Jungle Prinia, Ashy Prinia, Plain Prinia, Common Tailorbird, Common Chiffchaff, Sulphur-bellied Warbler, Hume's Leaf Warbler, Greenish Warbler, Lesser Whitethroat, Jungle Babbler, Large Grey Babbler, Yellow-eyed Babbler, Indian White-eye, Bank Myna, Common Myna, Asian Pied Starling, Brahminy Starling, Rosy Starling, Tickell's Thrush, Bluethroat, Oriental Magpie Robin, Indian Robin, Brown Rock Chat, Black Redstart, Pied Bushchat, Siberian Stonechat, Tickell's Blue Flycatcher, Grey-headed Canary Flycatcher, Purple Sunbird, House Sparrow, Chestnut-shouldered Petronia, Baya Weaver, Indian Silverbill, Western Yellow Wagtail, Citrine Wagtail, Grey Wagtail, White Wagtail, White-browed Wagtail, Paddyfield Pipit, Tree Pipit, Common Rosefinch, Crested Bunting
Other Wildlife
Ranthambore is a great place for mammals. The star of the park is certainly the Tiger. Sambar and Spotted Deer (Cheetal) are common, Nilgai (Blue Bull) are often seen just outside the park and Indian Gazelle is also likely to be encountered. Other mammals in the park are Rhesus Macaque, Northern Plains Langur, Common Leopard, Jungle Cat, Common Palm Civet, Ruddy Mongoose, Golden Jackal, Wild Dog, Sloth Bear, Five-striped Palm Squirrel and Wild Boar. Mugger Crocodile are found around the shores of the lakes in the park.
Site Information
History and Use
Sawai Madhopur Game Sanctuary was established in 1955 and was declared as a Project Tiger reserve in 1973. Later the protected area was enlarged and declared a national park in 1980.
It's very popular among Indian and foreign tourists and a well visited national park. As a consequence the park can be very busy, especially around Christmas, New Year and other Indian holidays.
Areas of Interest
Ranthambore fort
The fortress and the road to the fort are the only openly accessible areas in the park. You are allowed to stop the car or walk on the road, however you are not allowed to leave the road. The road can be busy, so be careful. A good place to look out for Painted Spurfowl is the gorge around halfway to the fort. From the parking spot you can walk up to the fort and walk around on top of the hill in the fort area. Check for the Spurfowl around the fort as well, especially looking down from the stairs. Check for vultures, too. You will need half a day to cover the area. Try to be early as the fort can get very busy with local tourists.
Soorwal dam
This artifical lake is located about 8 kms north of Sawai Madhopur. It can be reached by car. Take the road north out of Sawai Madhopur (towards Lalsot and Dauda). Turn left just before the small airfield to Adarsh Nagar, following the road to Pachipalya. After the village turn right to the small village of Mathurapura and continue for another 800 ms until you reach the dam. Check for waders, gulls, Indian Skimmer, flamingos, herons and egrets and other birds of open areas.
Safaris
You can choose between larger and smaller cars for safari. Smaller cars can reach all zones, larger cars only some of them. When entering the park with the safari car you get randomly (at least that's what they say) selected for a zone. Zone 2 and 3 are the best for tigers, however if you get another zone you are not allowed to cross into a zone where a tiger has been seen. To increase your chances to see a tiger you have to book several safaris in a row. You will also see birds, however they are usually not the first priority. Look out for vultures and other raptors.
Access and Facilities
The town of Sawai Madhopur with its railway station is 11 kms away from the park entrance. There are various hotels and lodges in all price categories between the railway station and the park entrance. The accomodations can arrange tiger safaris, however during holidays you should arrange accomodation and safaris in advance. You can reach the fort with a private car or a taxi, the other parts of the park are not accessible.
External Links