Alternative name: Red-billed Spurfowl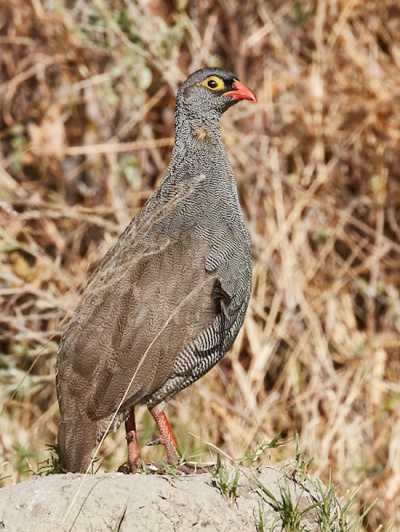 Pternistis adspersus
Identification
Male 38 cm (15 in); female 33 cm (13 in)
Yellow eyering which is very noticeable
Similar Species
Similar to Natal Francolin.
Distribution
Endemic to Namibia, Botswana and the extreme south of Angola.
An introduced population rarely observed on leeward Kilauea in Hawaii Volcanoes National Park seems to have died out in recent years.
Taxonomy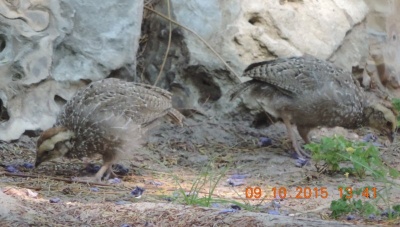 This is a monotypic species[1].
Formerly placed in genus Francolinus.
Habitat
They are usually found in arid savanna, floodplains and mixed woodland.
Behaviour
Diet
Their diet consists of green vegetation, berries, seeds and bulbs; also termites, beetles and grasshoppers etc.
References
Clements, J. F., T. S. Schulenberg, M. J. Iliff, D. Roberson, T. A. Fredericks, B. L. Sullivan, and C. L. Wood. 2017. The eBird/Clements checklist of birds of the world: v2017, with updates to August 2017. Downloaded from http://www.birds.cornell.edu/clementschecklist/download/
Avibase
Handbook of the Birds of the World Alive (retrieved October 2015)
Recommended Citation
External Links