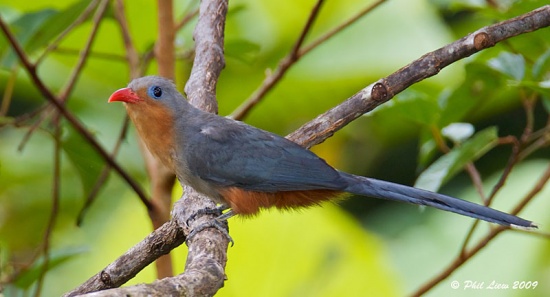 Zanclostomus javanicus
Phaenicophaeus javanicus
Identification
42cm
Grey upperparts
Glossed bluish green on back and wings
White tipped tail
Rufous underparts with grey lower-breast bar
Grey or blue bare skin around eye
Red bill with blackish culmen
Sexes similar. Juveniles also similar but with narrow rectrices and shorter white tip of tail.
Distribution
Found from southern Burma and southern Thailand through peninsular Malaysia to Sumatra, Borneo and Java.
Uncommon or rare to locally common.
Taxonomy
This is a monotypic species.
Placed in genus Zanclostomus by Dickinson (2003) and Gill & Wright (2008). Formerly placed in Phaenicophaeus.
Habitat
Subtropical or tropical dry forests.
Occurs from lowlands to hilly areas up to 1000m, sometimes up to 1500m.
Behaviour
Diet
Feeds on large insects. Takes also spiders and crustaceans.
Breeding
Breeds in June in Malaysia, April in Kalimantan. A monogamous species. The nest is a flimsy platform made of twigs. The eggs are chalky white.
Movements
A resident species.
References
Clements, J. F., T. S. Schulenberg, M. J. Iliff, D. Roberson, T. A. Fredericks, B. L. Sullivan, and C. L. Wood. 2017. The eBird/Clements checklist of birds of the world: v2017, with updates to August 2017. Downloaded from http://www.birds.cornell.edu/clementschecklist/download/
Del Hoyo, J, A Elliot, and J Sargatal, eds. 1997. Handbook of the Birds of the World. Volume 4: Sandgrouse to Cuckoos. Barcelona: Lynx Edicions. ISBN 978-8487334221
Gill, F and D Donsker (Eds). 2012. IOC World Bird Names (version 3.2). Available at http://www.worldbirdnames.org/.
Recommended Citation
External Links