Alternative name: Rufous-breasted Madagascar Coucal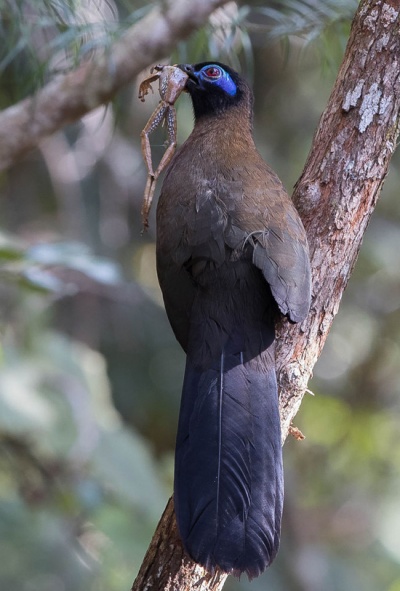 Coua serriana
Identification
42cm.
Dark green-brown upperparts
Long blue-black tail glossed blue
Dark rufous-chest, blackish-brown rest of underparts
Blue bare skin around eye, boardered black
Black throat
Black bill
Sexes alike. Juveniles have rufous edged wing-coverts, a brown-olive throat, an olive belly and a dull black tail without blue gloss.
Distribution
Endemic to north-eastern Madagascar.
Fairly common but has a very small range.
Taxonomy
This is a monotypic species[1].
Habitat
Humid forest. More in open areas and at lower levels than Red-fronted Coua.
Occurs from sea-level up to 1000m.
Behaviour
Diet
Feeds on berries and fruits, takes also seeds and insects.
Forages mainly on the ground by walking or running. Seldom seen flying. Often feeds beneath flocks of other frugivorous birds on fruits fallen from trees.
Breeding
The nest is a bowl made of interwined branches. It's placed 2 to 4m above the ground in a fern or a pandanus tree. Lays 2 white eggs.
Movements
This is a resident species.
Gallery
Click on photo for larger image
References
Clements, J. F., T. S. Schulenberg, M. J. Iliff, D. Roberson, T. A. Fredericks, B. L. Sullivan, and C. L. Wood. 2017. The eBird/Clements checklist of birds of the world: v2017, with updates to August 2017. Downloaded from http://www.birds.cornell.edu/clementschecklist/download/
Del Hoyo, J, A Elliot, and J Sargatal, eds. 1997. Handbook of the Birds of the World. Volume 4: Sandgrouse to Cuckoos. Barcelona: Lynx Edicions. ISBN 978-8487334221
Recommended Citation
External Links