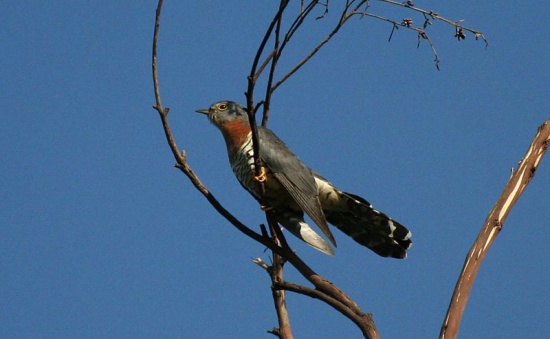 Cuculus solitarius
Identification
Length 28-30 cm; mass 67-90 g; males generally larger than females.
Adult: Dark grey head and back, rufous chest. The eye is brown, the bill black, and the legs yellow. Rufous breast with grey chin and throat diagnostic. Back darker than Common Cuckoo and African Cuckoo and paler than western form of Black Cuckoo.
Juvenile: Lacks the rufous breast of the adult; upper parts, throat and breast almost black.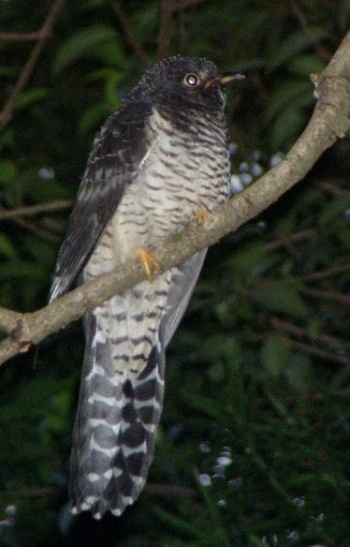 Distribution
Much of sub-Saharan Africa; absent from the most arid areas.
Western Africa: Senegambia, Senegal, Guinea-Bissau, Guinea, Sierra Leone, Liberia, Ivory Coast, Burkina Faso, Ghana, Togo, Benin, Nigeria, Chad, Cameroon, Central African Republic, Equatorial Guinea, Gabon, DRC and Angola
Eastern Africa: Sudan, Ethiopia, Kenya, Uganda, Rwanda, Burundi, Tanzania, Zambia, Mozambique and Malawi
Southern Africa: Botswana, Zimbabwe, South Africa, KwaZulu-Natal, Lesotho and Swaziland
African Islands: Gulf of Guinea Islands, Bioko (Fernando Po)
Taxonomy
Most authorities view this as a monotypic species[1], however, some recognize a second subspecies magnirostris[2].
Habitat
Forest, closed woodland, plantations, clumps of trees, wooded gardens and parks.
Behaviour
Intra-African migrant. Usually solitary; calls frequently in breeding season, but otherwise inconspicuous.
Diet
Invertebrates (mainly hairy caterpillars), small frogs and lizards, fruit and eggs. Feeds mainly in canopy.
Breeding
A brood parasite; the hosts are mainly Robin-Chats and Thrushes, the most common hosts in southern Africa being Cape Robin Chat, Cape Wagtail, and White-throated Robin Chat. Its eggs are brown and it can lay 20 eggs in a season in different nests.
Vocalisation
The characteristic three-note piet-my-vrou call of the male is diagnostic; the females call pipipipipi.
References
Clements, JF. 2009. The Clements Checklist of Birds of the World. 6th ed., with updates to December 2009. Ithaca: Cornell Univ. Press. ISBN 978-0801445019.
Avibase
Hockey, PAR, WRJ Dean, and PG Ryan, eds. 2005. Roberts' Birds of Southern Africa. 7th ed. Cape Town: John Voelcker Bird Book Fund. ISBN 978-0620340533
Recommended Citation
External Links