Alternative name: Red-fronted Parakeet; not to confuse with the two species Pyrrhura roseifrons from South America and Cyanoramphus saissetti from New Caledonia. One of the three species commonly known by the Maori name of Kākāriki. The other two are the Yellow-crowned Parakeet and the critically endangered Orange-fronted Parakeet.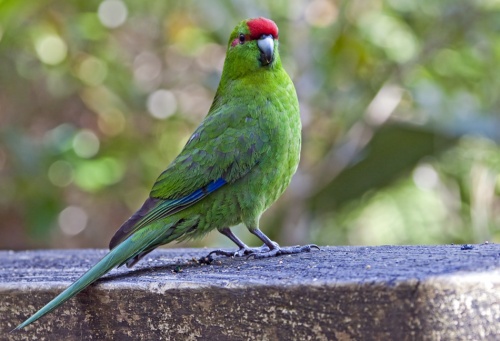 Cyanoramphus novaezelandiae
Identification
Length 27 cm (10½")
Green body with prominent red crown and spot behind the eye. Leading edges of primaries are blue. Gray bill.
Similar Species
Like Yellow-crowned Parakeet but larger and with red crown, forehead and eyeline.
Distribution
Endemic to New Zealand, they are now rarely seen on the mainland in the wild, although they are commonly bred in captivity (with a license). Maori hunted them for food and feathers.
Taxonomy
Reischek's Parakeet, New Caledonian Parakeet, and Norfolk Island Parakeet sometimes lumped with this species.
Subspecies
This is a polytypic species[1]. Four subspecies (one extinct) currently recognized.
C. n. cyanurus: Kermadec Islands
C. n. novaezelandiae: North Island., South Island., Stewart Island. and Auckland Islands. (New Zealand)
C. n. chathamensis: Chatham Islands
C. n. erythrotis: Formerly Macquarie I. Extinct
Habitat
They are found in mature native forest only, staying high in the canopy and nesting in old holes in the trees.
Behaviour
Diet
Much seasonal variation in diet, with buds and blossoms being consumed in spring, fruit in summer and seeds in autumn, and seeds and fruit in winter. Often feeds low in the forest or on the ground.
Breeding
Any time of year in North; October to December in South. Nest in hole in tree or cliff bank. Average clutch is 7 (range 4 to 9) white eggs. Incubation 23 days with chicks hatching asynchronously. Sometimes multi-brooded.
Vocalisations
Common flight call a nasal rattling chatter kehkehkehkehkeh..., lower pitched than Yellow-crowned Parakeet.
References
Clements, J. F., T. S. Schulenberg, M. J. Iliff, D. Roberson, T. A. Fredericks, B. L. Sullivan, and C. L. Wood. 2018. The eBird/Clements checklist of birds of the world: v2018. Downloaded from http://www.birds.cornell.edu/clementschecklist/download/
BirdLife International. 2016. Cyanoramphus novaezelandiae. The IUCN Red List of Threatened Species 2016: e.T22727981A95230539. http://dx.doi.org/10.2305/IUCN.UK.2016-3.RLTS.T22727981A95230539.en. Downloaded on 20 March 2017.
Higgins, P.J. (ed.) 1999. Handbook of Australian, New Zealand and Antarctic birds. Vol. 4, parrots to dollarbird. Oxford University Press, Melbourne.
Gill, B.J., B.D. Bell, G.K. Chambers, D.G. Medway, R.L. Palma, R.P. Scofield, A.J.D. Tennyson & T.H. Worthy, 2010. Checklist of the Birds of New Zealand, Norfolk and Macquarie Islands and the Ross Dependency, Antarctica. i-x, 1-501. Te Papa Press, Wellington, New Zealand.
Greene, T.C. 2013. Red-crowned parakeet. In Miskelly, C.M. (ed.) New Zealand Birds Online. http://www.nzbirdsonline.org.nz
Collar, N. & Christie, D.A. (2017). Red-fronted Parakeet (Cyanoramphus novaezelandiae). In: del Hoyo, J., Elliott, A., Sargatal, J., Christie, D.A. & de Juana, E. (eds.). Handbook of the Birds of the World Alive. Lynx Edicions, Barcelona. (retrieved from http://www.hbw.com/node/54502 on 20 March 2017).
Supporters of Tiritiri Matangi Inc. 2010. Red-crowned Parakeet - Tiritiri Matangi Project. http://www.tiritirimatangi.org.nz/redcrownedparakeet. Downloaded on 19 March 2017
Recommended Citation
External Links