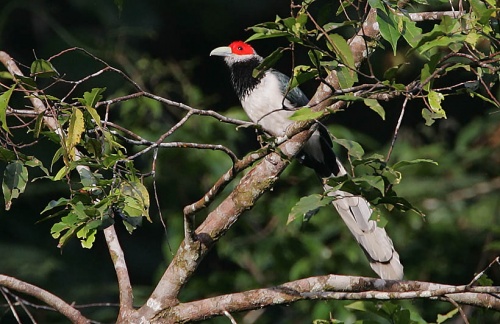 Phaenicophaeus pyrrhocephalus
Identification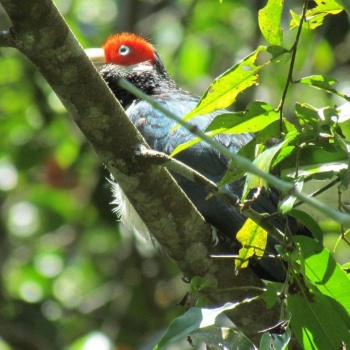 40–47 cm (14¾-18½ in); A large Malkoha with a long graduated tail:
Dark green back
Green edged with white uppertail
White belly and undertail, undertail barred black
Black throat and crown, white lower face
Large red patch around eye
Green bill
Dark iris
Sexes similar; the female has a white iris, juveniles duller
Similar Species
Blue-faced Malkoha: which doesn't have any red on the face.
Distribution
Endemic to Sri Lanka.
Regularly seen at Sinharaja and other remaining rain forests.
Taxonomy
This is a monotypic species[1].
Habitat
Found in tall rain forest. Also in scattered riverine habitats in the dry zone.
Behaviour
A shy inhabitant of the tree canopy.
Diet
Feeds on insects (caterpillars, giant stick insects, mantises) and small vertebrates (eg lizards). May occasionally take berries.
Usually seen solitary, in pairs or small flocks. Joins bird waves.

Breeding
Breeds in the first half of the year (and probably also August to September). The nest is a shallow saucer made of grass, twigs and roots. It's placed in a high bush in a forest area with thick undergrowth. Lays 2 to 3 eggs.
References
Clements, J. F., T. S. Schulenberg, M. J. Iliff, D. Roberson, T. A. Fredericks, B. L. Sullivan, and C. L. Wood. 2018. The eBird/Clements checklist of birds of the world: v2018. Downloaded from http://www.birds.cornell.edu/clementschecklist/download/
Handbook of the Birds of the World Alive (retrieved January 2019)
Recommended Citation
External Links
http://charlirox-slbirds.blogspot.com/2011/09/watha-rathu-malkoha-red-faced-malkoha.html