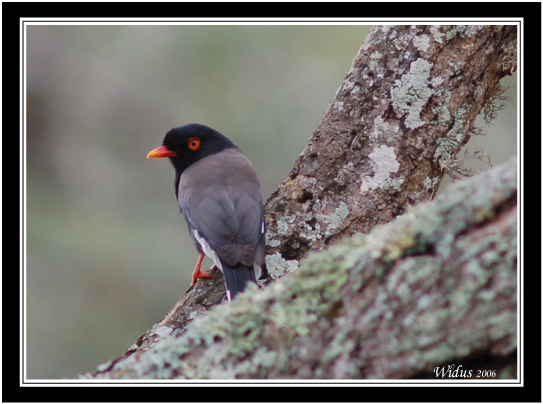 Alternative name: Red-billed Helmetshrike
Prionops retzii
Identification
Length 19-21 cm. Black body with brown back and wing coverts; vent and undertail coverts white.
Red bill, legs and eye wattle are missing or subdued in the juvenile.
Distribution
Africa: Southern Somalia to Angola and north-eastern South Africa.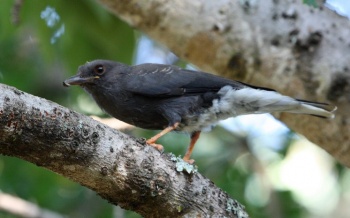 Taxonomy
Prionops retzii has four subspecies:[1]
Habitat
Woodland and riparian forest.
Behaviour
Usually found in groups of 2-15, moving between trees in a cohesive group. Feeds on invertebrates found mainly on branches, trunks and twigs.
References
Clements, JF. 2009. The Clements Checklist of Birds of the World. 6th ed., with updates to December 2009. Ithaca: Cornell Univ. Press. ISBN 978-0801445019.
Hockey, PAR, WRJ Dean, and PG Ryan, eds. 2005. Roberts' Birds of Southern Africa. 7th ed. Cape Town: John Voelcker Bird Book Fund. ISBN 978-0620340533
Sinclair, I and P Ryan. 2003. Birds of Africa South of the Sahara. Princeton: Princeton Univ. Press. ISBN 978-0691118154
Recommended Citation
External Links