This article is incomplete.
This article is missing one or more sections. You can help the BirdForum Opus by expanding it.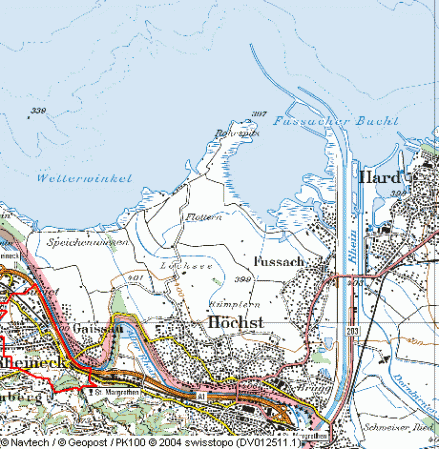 Overview
Western Austria. This is a vast area (for Central European conditions), ranging from the Swiss border to the west and south - with the old Rhein river bed and the Wetterwinkel lagunes on the lake - to the town of Hard to the east of the new Rhine river.
The back-country used to be marsh, but is now mostly used for agriculture. With several strong water pumping stations assuring sufficiently dry soils. So the best area is near the lake shore and along the new Rhine river (both sides).
Birds
Notable Species
This is easily the best (most diverse) birding area in a range comprising western Austria, northern Switzerland and southern Germany.
This is a major shorebird stopover area, but its significance depends largely on the very variable water level. Often, late summer and fall migration is hampered by too much water. But there is virtually ALWAYS something interesting to be expected.
I refrain from giving a species list, there are others who'd be more qualified. Suffice it to say that you can expect just about any species on migration, even some North American stray shorebirds.
The vast reed beds along Fussacherbucht hold Bearded Reedling.
Check-list
Birds you can see here include:
To do
Other Wildlife
Amphibians and reptiles include Crested Newt and many species of frogs and toads. 1
Site Information
History and Use
In summer, there is a lot of bathing activity and boating.
Areas of Interest
Exploration has to start from the few parking lots (if by car), as most roads are closed except for bicycles and for local land owners' cars. A drive from the town of Hoechst to the Rohrspitz area (signposted, adhere to speed limits) can be very rewarding. It is leading to a sandy beach.
From there explore Fussacher Bucht to the east from the levee. Alternatively, that levee can be reached from Fussach.
The main parking along the new Rhine river is on the left bank driving down from the town of Fussach (turnoff at the bridge across the river).
As the Rhine brings a lot of material, there are very long levees being built on both sides into the lake. It is from these levees that much of the birding is done. They are much longer now than on the map! There are some lagunes on both sides of the river as well. Be prepared for a walk of several kilometers on gravel roads.
Access and Facilities
To do
Contact Details
To do
References
External Links

Swissboy Content and images originally posted by Swissboy