This article is incomplete.
This article is missing one or more sections. You can help the BirdForum Opus by expanding it.
Callonetta leucophrys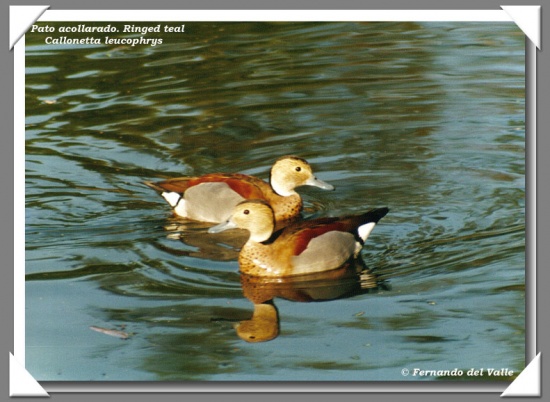 Identification
Male has a rich chestnut back, pale grey flanks and a salmon coloured breast speckled in black. A black band runs from the top of its head down to the nape. Females have an olive-brownish back with the head blotched and striated in white, with pencilled barring on a pale chest and belly. Both have a dark tail, a contrasting pale rump, and a distinctive white patch on the wing. Bills are grey and legs and feet are pink in both sexes.
Distribution
North-west Argentina and Paraguay, also occurring in Bolivia, Brazil and Uruguay.
Taxonomy
Habitat
Tropical, swampy forests and marshy clearings in well-wooded lowlands, as well as secluded pools and small streams.
Behaviour
They nest in cavities and 5 to 12 whitish eggs are laid; incubation takes from 23 to 26 days.
External Links