Alternative Name: Briar Warbler, Roberts's Prinia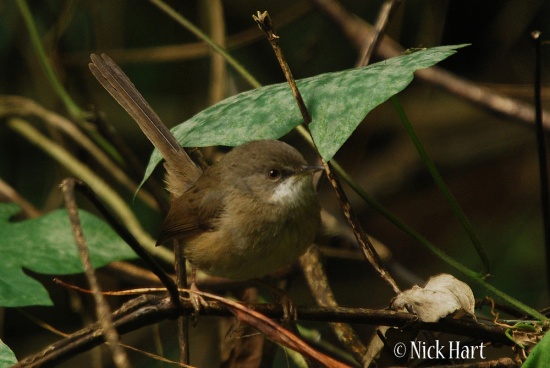 Oreophilais robertsi
Prinia robertsi
Identification
Length 14-15 cm, mass 7-12 g
Adult: A prinia-like warbler with olive-brown upper parts, slate-brown head and yellow eyes. The breast is greyish rufous, the belly is white and the flanks and vent rufous.
Juvenile: Similar to the adult, but with grey to brown eyes.
Similar species
The Tawny-flanked Prinia is paler and has a whitish eyebrow.
Distribution
Eastern highlands (>1200 m) of Zimbabwe and adjacent Mozambique.
Taxonomy
Some authorities[2][3][4] place this species in the genus Oreophilais and others[1][5] in Prinia.
This is a monotypic species.
Habitat
Moist montane forest; in clearings, along streams and in bracken and brier thicket. Also in thick bush on rocky slopes and in thickets within timber plantations.
Behaviour
In small groups, in pairs or singly. Often forages with mixed-species flocks. Eats small invertebrates.
Vocalisation
A noisy, shrill, harsh chattering cha-cha-cha-cha and a scolding zizz-zizz.
Breeding
Monogamous and territorial. The oval nest has a side-top entrance and is built using fine grass, moss and spiders web. It is placed about a metre above the ground in a shrub or herb. Two to three eggs are laid September to February.
References
Clements, JF. 2009. The Clements Checklist of Birds of the World. 6th ed., with updates to December 2009. Ithaca: Cornell Univ. Press. ISBN 978-0801445019.
Dickinson, EC, ed. 2003. The Howard and Moore Complete Checklist of the Birds of the World. 3rd ed., with updates to December 2007 (Corrigenda 7). Princeton: Princeton Univ. Press. ISBN 978-0691117010
Gill, F, M Wright and D Donsker. 2009. IOC World Bird Names (version 2.0). Available at http://www.worldbirdnames.org/.
Hockey, PAR, WRJ Dean, and PG Ryan, eds. 2005. Roberts' Birds of Southern Africa. 7th ed. Cape Town: John Voelcker Bird Book Fund. ISBN 978-0620340533
Sibley, CG and BL Monroe. 1996. Birds of the World, on diskette, Windows version 2.0. Charles G. Sibley, Santa Rosa, CA, USA.
Recommended Citation
External Links