This article is incomplete.
This article is missing one or more sections. You can help the BirdForum Opus by expanding it.

Overview
A long and narrow canal feeder reservoir situated to the north-west of Leek in north Staffordshire. Rudyard Lake always holds a few water birds throughout the year but recreational activities may affect the birds present on any particular day. The north end is of most interest with emergent vegetation and some willow scrub and and alder carr adding to the habitats available. During dry summers the water level can fall substantially and the shallower north end then become muddy havens for ducks and passing waders
Birds
Notable Species
Few: …Great Crested Grebe.
Rarities
Green-winged Teal, Common Crane, Temminck's Stint, White-rumped Sandpiper, Pectoral Sandpiper
Check-list
Birds you can see here include:
Great Northern Diver, Great Crested Grebe, Cormorant, Little Egret, Grey Heron, Mute Swan, Pink-footed Goose, Greylag Goose, Canada Goose,Shelduck, Eurasian Wigeon, Common Teal, Mallard, Northern Shoveler, Common Pochard, Tufted Duck, Common Goldeneye, Smew, Goosander, Common Buzzard, Common Kestrel, Eurasian Hobby, Water Rail, Common Moorhen, Common Coot, Common Crane, Oystercatcher, Little Ringed Plover, Common Ringed Plover, Lapwing, Little Stint, Temminck's Stint, White-rumped Sandpiper, Pectoral Sandpiper,Curlew Sandpiper, Dunlin, Ruff, Common Snipe, Curlew, Common Redshank, Spotted Redshank,Greenshank,Wood Sandpiper, Green Sandpiper, Common Sandpiper,Black Tailed Godwit, Black-headed Gull, Common Gull, Lesser Black-backed Gull, Common Tern, Arctic Tern, Black Tern, Stock Dove, Little Owl, Tawny Owl, Common Swift, Kingfisher, Green Woodpecker, Great Spotted Woodpecker, Lesser Spotted Woodpecker, Sand Martin, Swallow, House Martin, Meadow Pipit, Yellow Wagtail, Grey Wagtail, PiedWagtail, Wren, Dunnock, Robin, Common Redstart, Blackbird, Fieldfare, Song Thrush, Redwing, Mistle Thrush, Sedge Warbler, Garden Warbler, Blackcap, Common Chiffchaff, Willow Warbler, Goldcrest, Spotted Flycatcher, Pied Flycatcher, Long-tailed Tit, Marsh Tit, Willow Tit, Coal Tit, Blue Tit, Great Tit, Eurasian Nuthatch, Eurasian Treecreeper, Eurasian Jay, Jackdaw, Rook, Carrion Crow, Raven, House Sparrow, Chaffinch, Brambling, European Goldfinch, Eurasian Siskin, Twite, Lesser Redpoll, Common Redpoll, Arctic Redpoll, Crossbill, Bullfinch, Reed Bunting,
Please note: The only assessed and complete list of birds for this site is held within the Staffordshire birds database - contact the Staffordshire County Bird Recorder for more formal details.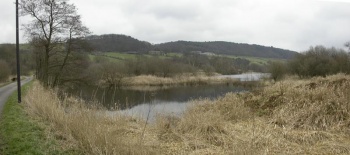 Current site total
109 species + 1 extra subspecies, and including escapes/ferals. This list includes records accepted by British Birds Rarities Committee (BBRC) and the County Recorder. It may be incomplete - scarcities prior to 2000 and unsubmitted rarities and commoner birds (eg Sparrowhawk) are likely to be missing. If you are able to add other species please do so here, but do also contact the Staffordshire County Bird Recorder with the additions, and also with descriptions of any rarer species so they can be reviewed and included in the site and county records. See the county list for species which do need descriptions.
Other Wildlife
To do
Site Information
History and Use
To do
Areas of Interest
The north end is generally of most interest to the birdwatcher. As well as open water this consists of some narrow woodland, willow scrub, emergent vergetation and also pasture land with some scattered bushes. Much of the water may be viewed from the north end but it is very worthwhile walking down the west side until a view back to the north end is possible as many ducks hide amongst the submerged bushes and are hidden from a quick look up the water.
Access and Facilities
Rudyard is a very well-know tourist spot with good parking only at the south end where a car park has been provided in the old railway station area. This allows entry to the site via the disused railway line which runs along the entire east side of the reservoir and a good footpath is provides a circular walk around the entire reservoir. However, birders looking for a short visit could, with care, use the northern-most entrance on the Congleton road just off the A523 at Ryecroft gate – a small amount of informal parking is available along the railway track although this is not a recommended parking site for anything other than a short visit – be aware that thieves may operate in the area.
Disabled access
An edit from anyone with a perspective on this would be valuable
Access from the south end along the railway track is rough. The path that runs around the north end is metaled for a few hundred metres and access here is good, although viewing points over the water are limited. Car access along the old railway track would be possible for a short distance along the north-east side and may allow views of the muddy areas in late summer although low sun late in the day could make i.d. difficult.
Research/Survey work known
Wetland Bird Survey counts have been performed at the site in the past but no recent details known
Contact Details
To do
Bibliography/Further Reading
A section with Tittesworth Reservoir in Where to Watch Birds in the West Midlands, Graham Harrison et al, 3rd edition 2007, Christopher Helm, ISBN 978-0-7136-6419-5
A paragraph, p.65 in The New Birds of the West Midlands, Graham and Janet Harrison, 2005, Christopher Helm, ISBN 0-9507881-2-0
External Links
Please add if any reputable, non-commercial, sites are known.
Other sites nearby are:
within a few minutes travel: Tittesworth Reservoir, The Roaches, Gun Hill, Longsdon Mill Pool.
a little further afield: Swallow Moss, Westport Lake, Berry Hill,
Reviews