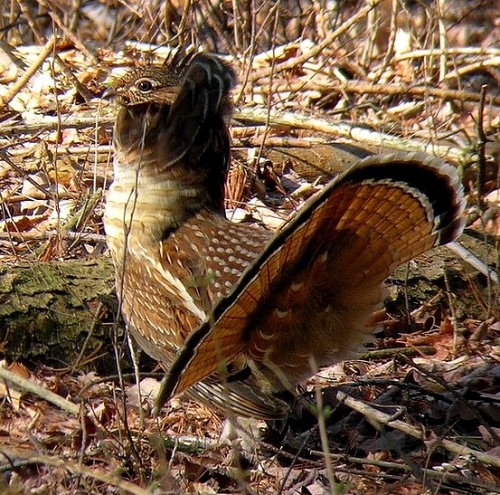 Bonasa umbellus
Identification
43–48 cm (17-19 in); largish grouse with short crest and fan-shaped tail (with sub-terminal band)
Greyish-brown head, neck and back
Light breast has barring
Ruffs are on the sides of the neck

Both sexes are similarly marked and sized
Distribution
Canada and northern United States.
Taxonomy
Subspecies
Fourteen subspecies are recognized:[1]
Habitat
They can be found in a wide variety of woodland habitats.
Behaviour
Breeding
Ground nesters, the clutch typically consisting of 6–8 eggs. The nests are occasionally parasitized by Ring-necked Pheasants or Wild Turkeys that lay eggs in the nests.
Diet
Their diet consists of buds, leaves, berries, seeds, and insects.
References
Clements, J. F., T. S. Schulenberg, M. J. Iliff, D. Roberson, T. A. Fredericks, B. L. Sullivan, and C. L. Wood. 2015. The eBird/Clements checklist of birds of the world: v2015, with updates to August 2015. Downloaded from http://www.birds.cornell.edu/clementschecklist/download/
Handbook of the Birds of the World Alive (retrieved May 2016)
New World Encyclopaedia
Recommended Citation
External Links