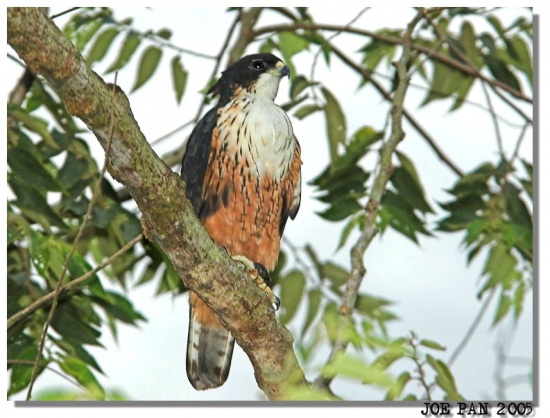 Alternative names: Rufous-bellied Eagle; Chestnut-bellied Hawk-Eagle
Lophotriorchis kienerii
Hieraaetus kienerii
Aquila kienerii
Identification
54-60 cm. Broad rounded wings, short broad tail. It eats mainly birds and small mammals. Blackish upperparts and head, white foreneck and breast are white, tail and flight feathers are white barred with dark. The rest of the underparts are chestnut. Sexes are similar. The immature eagle has white in place of the adult's chestnut plumage, and dark flank patches.
Distribution
Western India and Sri Lanka and from the Himalayas east to Vietnam and Hainan and south to the Malay Peninsula and Singapore (where it is a rare non-breeding visitor). Also found on the Philippines, Borneo, Sulawesi, Sumatra and Java.
Taxonomy
The taxonomic placement of this species is not sure. Some authorities also place it in the genus Aquila, others in Hieraaetus.
Subspecies
Two races are recognised: formosus in the southern Himalayas, India and Sri Lanka and nominate in remainder of range.
Habitat
Forest from sea-level up to 1,000m.
Behaviour
It builds a large nest of sticks in a tree and 1 egg is laid.
The diet includes birds and small mammals.
External Links