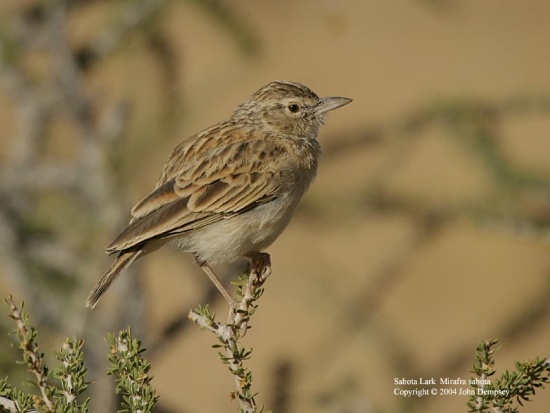 Calendulauda sabota
Mirafra sabota

Includes Bradfield's lark
Identification
Length 14-15 cm. Plumage colour varies considerably accross southern Africa, but generally has a distinct white eyebrow.
Similar species
Sabota Lark is more distinctly streaked above and on breast than Fawn-coloured Lark, which lacks moustachial and malar stripes. Rufous-naped Lark is larger, has a simpler song, a longer bill, a crest, and a reddish panel on the folded wing. Melodious Lark is smaller, has less distinct streaking on the breast and less distinct eyebrows; it also seldom sings from elevated perches (usually sings in flight).
Distribution
Angola, Botswana, Mozambique, Namibia, South Africa, Swaziland, and Zimbabwe.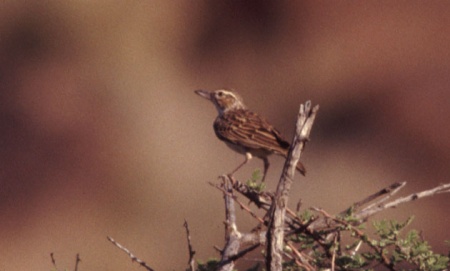 Taxonomy
There are nine subspecies varying in plumage tone and bill size:1,2
South-central and west-central South Africa
Has a heavier bill than other subspecies
Has in the past been considered a full species with the name Bradfield's Lark
Formerly placed in genus Mirafra but genetic evidence suggests that this species is closely related to the Karoo Lark complex.
Habitat
Savanna and dry shrubland.
Behaviour
Usually solitary or in pairs. Often sings from an elevated perch, but also in aerial display; the song is complex and variable, including melodious notes, whistles, trills and buzzing sounds; mimics a wide variety of calls of other species.
Forages on the ground (often bare, open ground) for invertebrates, seeds, grass stems and leaves. Apparently does not drink, obtaining sufficent water from food.
Breeding
Monogamous and territorial. The nest is a cup built of dry grass on the ground. Two to four eggs are laid October to May (earlier in the east). Young are fed by both parents.
References
Clements, JF. 2010. The Clements Checklist of Birds of the World. 6th ed., with updates to December 2010. Ithaca: Cornell Univ. Press. ISBN 978-0801445019. Spreadsheet available at http://www.birds.cornell.edu/clementschecklist/Clements%206.5.xls/view
Hockey, PAR, WRJ Dean, and PG Ryan, eds. 2005. Roberts' Birds of Southern Africa. 7th ed. Cape Town: John Voelcker Bird Book Fund. ISBN 978-0620340533
Recommended Citation
External Links